Recent Remodeling Project Highlights from Spring 2018
Please enjoy these recent remodeling project highlights from spring 2018.  To view more project profiles, please visit our Project Types section.
By removing the tub and changing the orientation of the shower, BOWA's Design Team was able to create a floorplan that enhances natural light and creates desired storage. With the addition of overhead lighting and heated flooring, the space is now warm, bright and efficient. The gray floor-to-ceiling marble creates a lovely spa-like feel.
*****************
As the owner plans to enjoy this home for years, BOWA's Design Team developed a strategy to address maintenance issues, upgrade materials and adjust the layout. Rooms were combined to enlarge the master suite, master bath transformed, deck rebuilt and basement, kitchen and exterior updated in a mid-century modern style.
*****************
The team developed a plan to combine two units into an optimized, light-filled space with a contemporary design and incredible views. Plumbing, electrical, gas, and communication systems were re-routed and walls removed. With all materials pre-selected, BOWA provided a fixed price and firm schedule before beginning.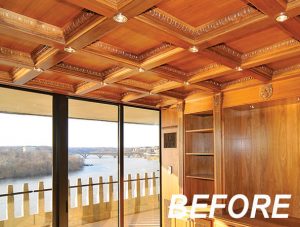 *****************
With the owners planning to stay in the production-built home for the next 20 years, BOWA created a master plan. In this phase, the kitchen was enlarged and renovated, a spa bath created, and a stylish universal design in-law suite delivered. An addition over the study created a fifth bedroom. The home now fits their family and desired design.
If you enjoyed these recent remodeling project highlights from spring 2018, visit Project Types for more project profiles.