BOWA Wins Two 2022 Remodeling Awards with PRO
Also Named Top Vote Getter in the Best Remodeler Category by Arlington Magazine
McLean, Va. – BOWA is pleased to announce that two of their projects have won awards in the 2022 Professional Remodeling Organization (PRO) Remodeler of the Year Awards. BOWA has received the Grand Award for the "Entire House over $1,000,000" category, as well as a Merit Award for the "Residential Kitchen Over $150,000" category. Judging for this competition is based on problem solving, functionality, aesthetics, craftsmanship, innovation, and degree of difficulty as assessed by an impartial panel of industry experts.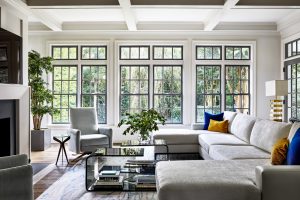 "We are beyond grateful to have received both awards," said BOWA's CEO, David Flyer, "Because our primary focus is delivering remarkable client experiences and we take immense pride in the work that our design and production teams create, we feel honored by this recognition from our peers in the 2022 remodeling awards."
For the "Entire House over 1,000,000" category, the winning design consisted of a home renovation for a family in McLean that involved both updating and upgrading the whole house. BOWA assisted this family in transforming their old space into their dream home through the inclusion of gourmet kitchen features, copper fixtures and faucets, elegant white wainscotting, and other modern touches. Aside from the stunning look of it, the new home became more cohesive and comfortable for both the owners and their visitors. Some new and improved features of this home include a brand-new wine cellar, custom bar, golf room, and a home theater.
As for the "Residential Kitchen over $150,000" category, BOWA's in house design team created the look that transformed this dated kitchen into a contemporary and light-filled space. In order to match the homeowners' vision for their brand-new kitchen, BOWA incorporated white cabinets, a shallow tray ceiling, and dark walnut flooring that brings warmth to the space. This project involved overcoming a few different hurdles, such as a tight production schedule, relocating utilities, and structural complexities. In the end, the project was completed on time, within budget, and surpassed the clients' expectations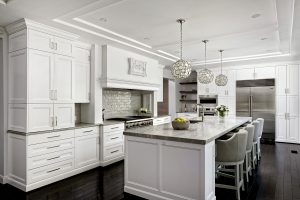 These 2022 remodeling awards are the latest recognition for BOWA, which has received over 260 local and national awards honoring the company's business excellence, design, and construction expertise on projects ranging from owners' suites and kitchens to whole-house and condo remodels. BOWA is also pleased to announce their placement as a Top Vote Getter for best remodeler in Arlington Magazine's 'Best of Arlington' awards.
For a list of BOWA's awards, please visit Our Honors. For photos of our projects, please visit our Gallery.
About BOWA
With a focus on delivering remarkable client experiences and superior client advocacy, BOWA specializes in luxury renovations ranging from kitchens and owners' suites to whole-house and condo remodels. BOWA's team of design build experts guide homeowners through every step of the remodeling process – from the first thoughts of the project, throughout architecture and construction, and continuing through a lifetime of ownership. More than 80% of our projects each year come from returning clients and referrals, which we believe speaks to the experience of working with BOWA. Others can build pretty rooms, but it's BOWA's client-first approach to remodeling that has earned us this unprecedented level of loyalty and trust. BOWA was founded in 1988 and proudly serves clients throughout the Greater Washington area and Virginia's Horse Country.