Top 10 Things to Know Before You Purchase a House to Remodel
Have a vision for renovating or expanding a house for sale?
Here are some tips on what to find out before you buy.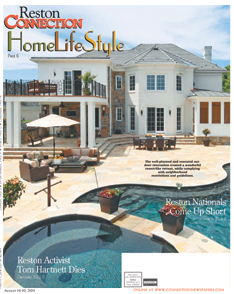 As seen in The Connection Newspapers
Too many times, I've had to deliver the upsetting news to new homebuyers: the project they are considering is not feasible. With a little due diligence and expertise, the new homebuyers' disappointment could have been avoided.
Here are 10 things to consider when purchasing a house with the intention of a future remodeling project.
1. Check the local government's zoning ordinances.  Don't assume that you have identical building rights as your neighbors. Regulations change, and the particular location of your lot (corner lot example) may be impacted.
2. Research any neighborhood association restrictions. If you conduct a title search of the property, you should find the following: architectural design guidelines and review, construction materials requirements and even restrictions on how close you can build on the property line, along with size limits.
3. Never assume that an existing structure is adequate for future modifications. For instance, second floor ceiling structures are often inadequate flooring structures for remodeling attic space. Similarly, deck structures may not be appropriately designed to handle enclosed spaces. Basement ceilings in unfinished areas may be too low to finish and may not meet local building codes. Also, it's important to remember that all finished spaces require egress, or an exit(s).
4. Check system capacities. Most often, systems in the house are designed at best to meet the needs of the existing structure. That means when you increase the size of the house, you'll likely have to create new capacity for heating and cooling. You may even need to upgrade and enlarge the water supply, as well as the gas and electric supplies.
5. Investigate policies regarding septic systems. Policies vary among districts, but it is critical that you understand the capacity of your existing system and what is entailed with expanding it. New technologies are becoming more widespread, which gives more options for expansion. Always consult an engineer in your specific area for detailed recommendations.
6. Be aware of hazardous materials. Many homes in our area built prior to 1972 have lead paint. And homes throughout the area, particularly those built 40 years ago or more may have asbestos tile. Handling these materials appropriately, as part of a remodeling project, is required by law. So you should plan on the extra cost associated with the safe remediation of these materials.
7. Make sure that you understand and appreciate your landscaping. Some trees and plantings are very delicate and may be damaged by construction in close proximity. There are techniques to minimize damage, such as root pruning and liquid fertilization. If you're considering a remodeling project in an area with a very important tree, you should consult a professional arborist.
8. Think through access for construction. One of the most overlooked aspects of a remodeling project is the logistics of transporting materials, equipment and personnel to the construction site. Often, access is restricted by trees, pools, grade, etc., making construction much more costly.
9. Be realistic about timing. The permitting process in particular can be a harrowing experience. With new local restrictions particularly in regard to land disturbance, permitting can often take as long as six months. Verify all requirements in your district, and hire a professional expediter to make the process as easy as possible.
10. Be realistic about your budget. As with many new purchases, there may be some unanticipated costs, and you may want to do more work than you initially planned. Make sure you're conservative in developing a budget that will meet your needs, and consult an expert for the particular sort of work you are considering. Remember to find someone who tells you what you need to know, and not what you want to hear.
As seen in Th
e Connection Newspapers and Written By:
Josh Baker
Founder, BOWA