Using Social Media to Aid in the Design Process

Is a kitchen remodel in your near future? Are you planning a master suite addition? Whether you want to renovate or you're just looking to freshen up your living room with some new furnishings, there are some great online tools available to help with the design process. Looking for Inspiration?  If you're looking for something above and beyond just tearing out magazine pages to show to your design team, you may want to check out Pinterest. This website, also available as a mobile app, allows you to collect, organize, and share visual bookmarks of all the things that interest you. You can browse categories such as 'Home Decor', 'Architecture', and 'Gardening' and then "pin" the images you like to your very own "pinboard." You can also browse and follow the boards of other pinners who have similar interests. Beyond Pretty Pictures  If you want more than just pretty pictures, look no further than Houzz, the leading online platform for home remodeling and design. Houzz was started in 2009, by Adi Tatarko and Alon Cohen, a couple who purchased a 1950's home to renovate and found it difficult to communicate their vision and ideas to an architect. Living in Silicon Valley, naturally, they decided to create an online platform to showcase the work of design and construction professionals.   Fast forward four years, and Houzz is both a website and mobile app that connects millions of homeowners, home design enthusiasts, and home improvement professionals all in one interactive place. Homeowners in search of a local pro can browse company profiles to find to find photos by and reviews for anything from design build firms, to landscape architect, to lighting specialists.  Another cool feature is the "Discussion" section, which gives you the ability to post any design dilemmas you may be having, and receive feedback and suggestions from other Houzz users. You can also post before and after pictures to show off your transformation. Photos Galore  Of course Houzz also has its fair share of pretty pictures in a searchable database of more than one million home design photos. If you're feeling overwhelmed, you can filter by room, style, and geographic location.  If you have questions about specific photos, such as paint color or materials used, it is very easy to ask those of the photos' owners who are encouraged to respond in a timely manner.  And for the photos and ideas you love, you can save and organize them in an online "Ideabook," which provides the ability to add notes and share with others. It's a great way to visually communicate what you're looking for and collaborate with members of your design team. For example, you may be ready to take the next step in finishing a basement, but you're unsure of the exact layout you'd like or what flooring to use. Creating an Ideabook of lower levels that appeal to you should help to streamline the design process.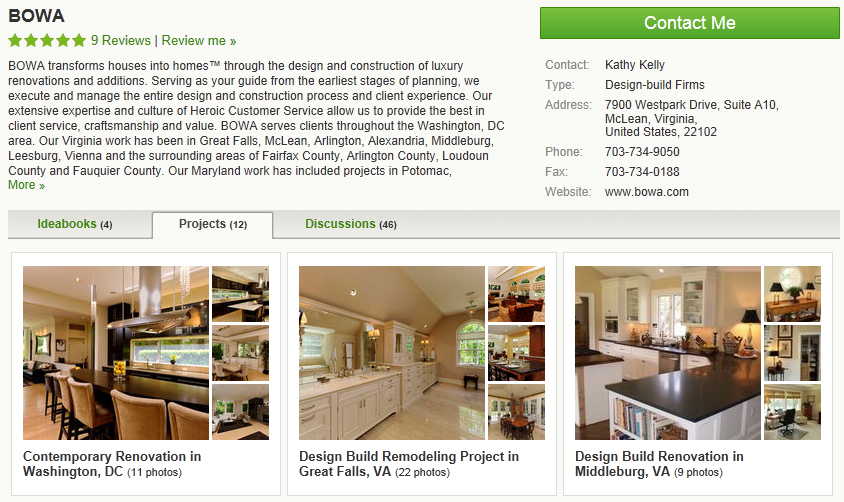 Your Source for Luxury LuxeSource.com, the online site for Luxe Interiors + Design magazine, is another helpful resource for homeowners as they set out down the design path. Like Houzz, you can search through photos of majestic backyards and opulent dining rooms to help spur your design vision. To customize your search, you can filter by style, space or color to suite your preferences. Photos that catch your eye can be added to your "LookBook" for future reference. If you're looking for a home-related professional, check out the Luxe Resource section. There you can find profiles of design build remodelers, interior designers and other specialists throughout the Greater Washington area. While these sites and apps are perfect for gathering ideas and inspiration, if you are planning a renovation or remodel, it's best to involve a design build professional as soon as possible, to ensure the work is feasible and within your budget. But, even if don't have any design projects on the horizon, there's nothing wrong with a little "window shopping" in the meantime!