Tips to Get the Most out of Your Outdoor Space
For many of us, nothing beats relaxing in the comfort of our own outdoor retreat.  But is your outdoor space usable in the hot summer and chilly winter?  It is possible to enjoy an outdoor room much of the year if you plan ahead and incorporate features into the design that will make the space more comfortable as temperatures rise or fall.  Following are some items to consider and discuss with your design team when you're trying to get the most out of your outdoor space.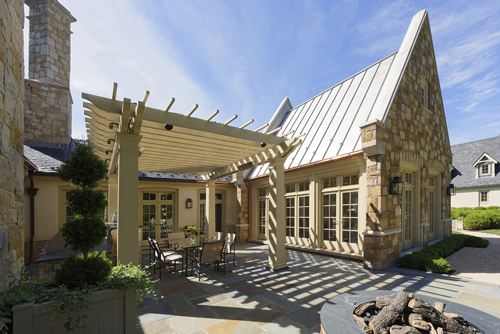 Hot Weather
In the summer months heat can make the outdoor entertaining downright unbearable.  But, here are a few things you can do to make your outdoor space usable in the hot summer.
Location. Location. If you're building new, try to take advantage of existing tall trees or a space with a natural cross breeze to keep the area shaded and/or ventilated. If they don't already exist, consider planting trees for shade and privacy.
Add some type of cover to provide protection from the sun. Depending on how you want to use the space, the answer might be a solid roof, vaulted beam ceiling, pergola, retractable awning or more.
Add curtains, blinds or screens to help control low afternoon sun.
Add a ceiling fan or two to keep the air flowing.
For hotter days, consider a mister system, outdoor air conditioner or an indoor/outdoor space with large folding glass walls so you can enjoy your home's cool air when needed.
Also, discuss your options for keeping unwanted bugs at bay. Do you want to go as far as creating a permanently screened room? Or one with optional, motorized screens? Or will including plantings, such as lemongrass and rosemary, be sufficient?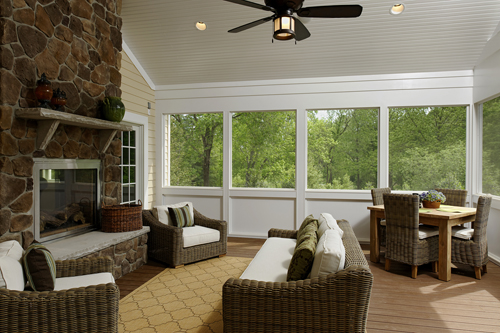 Cold Weather
Cold air and strong winter winds can make sitting outdoors less than appealing.  However, there are design considerations that can make your space comfortable and cozy, so you can enjoy the outdoors even in the chillier months.
Consider adding wind screens or a decorative wall. A strategically placed wind blocker can make a significant difference in an outdoor space's temperature. A wind screen can also be used to add architectural interest.
A fireplace or firepit will immediately add warmth and create a cozy environment for you to enjoy on those chilly days and nights.
If a fireplace isn't an option, consider including infrared heaters into your design. You can incorporate them into the walls or ceiling, which will avoid bulky space heaters taking up floor space.
Include large-opening windows with screens or sliding or folding glass doors that fully open or close the space. This would allow you to condition the space and have control of when to bring the outdoors inside.
If you've been thinking about adding a usable outdoor space to your home, there are many options to ensure this space can be used much or all of the year.  With the right design team, you can create a room with architectural interest and modern comforts, no matter the season!