Tips for Planning a Home Gym to Crush Your Fitness Goals
We work out.  For many of us it's an essential part of our daily routine and staying active is key to maintaining physical, emotional, and mental health.  But, making time for exercise when life gets busy with family and career can be challenging, perhaps even more so now.  With gyms, studios and fitness classes operating at reduced capacity, and folks staying closer to home, are you thinking about carving out space for a home gym?  What should you discuss with your remodeling team as you plan a space that will accommodate your family's various workout regimens?  Following are some items to consider when designing your home fitness center.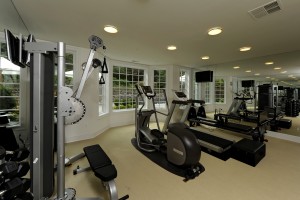 Location
What's the best spot for your home gym?  One client decided to locate their gym on the main level in order to take advantage of their beautiful backyard views.  Perhaps it's on the lower level, adjacent to the play room so that you can keep an eye on the kids while they exercise their imaginations.  If your outdoor space permits, a stand-alone structure can provide an at-home yoga get-away in a private setting.
Space
It's all about the equipment.  The amount of square footage you need is determined by the machines and equipment you plan to install.  Pay attention to ceiling height based on both the equipment and your activities – swinging a kettlebell over your head can result in an unwanted ceiling repair!  Adding a wall of mirrors will make the space look larger and help you keep an eye on your form, and maximizing sightlines and available natural light can be accomplished with glass doors.
Structure & Flooring
If not located in the basement or on a concrete slab, make sure you have appropriate floor support.  Likewise, if you plan to hang a boxing bag or install a TRX suspension training system, you'll want to ensure floor joists are blocked and secure without a bathroom directly above.  Adding an exhaust fan that vents to the exterior of the home is an excellent way to control moisture and be sure to pay close attention when planning the placement of vents and registers in relation to exercise machines.  A comfortable workout without hot or cold air directly blowing is desirable.
The flooring you select is based on personal preference, budget, and the design of your home gym.  Rubber flooring is the preferred choice and comes in three styles.  Rolled sheets, interlocking tiles, and square tiles all provide safety and protection and come in a variety of thicknesses and colors.
AV & Electric
Pay close attention to the location of outlets and electrical load, particularly if there are multiple machines requiring power, such as the newest interactive equipment – Peloton, NordicTrack, etc.  Consider incorporating a deep baseboard to conceal wiring, particularly if installing mirrors.  Many home gyms include sophisticated AV systems to allow you to participate in online classes so don't forget to incorporate this in your plan.
If you've been thinking about adding a home gym, there are as many options as there are workout programs.  A remodeling professional can help you design a space to help you keep you and your family in shape!