Savvy Homeowners Prefer Design Build Remodeling and Other Trends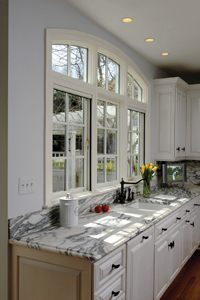 Today's homeowners are extremely educated about what they want in a home. Travel, home shows, the internet and a greater focus on creating a comfortable environment, have led homeowners to be very particular about what renovations they do and how they go about them. This has caused a renaissance of residential design build remodeling as the benefits of a strategic team approach to home design have become more apparent. Today's homeowners have embraced the idea of actively participating in the development of customized solutions that best suit their family's needs, wants and lifestyle. They achieve this by engaging a team of experts who can ask the right questions and work together to find the answers. While this approach is one of the biggest changes, here are some other trends we're seeing in our recent projects.
Projects are Smarter, not Larger:  The trend to smaller, higher quality spaces continues as many local residents discover that what they need is not more space, but better space. The challenge is that most of the homes in our area were not designed for the way we live today. Small, compartmented rooms, a kitchen meant to be occupied by only two or three people and formal rooms that separate the family from each other are no longer the types of spaces families desire. As a result, today's home remodeling projects often focus on reconfiguring and optimizing existing square footage to better suit the way today's families live, play and entertain. 
Kitchens Transformed by Design:  It is no surprise that kitchens continue to be high on virtually everyone's list of required renovations. While sometimes the solution is adding square footage, particularly in homes built more than 30 years ago, frequently the solution lies in rethinking the layout and improving the connection to surrounding spaces, both interior and exterior. In one BOWA project, the wall separating the formal dining room from the kitchen was removed completely, creating a spacious casual kitchen.  The expanded area is an improved use of the existing space, and is now consistent with their lifestyle and priorities.
Theaters As Living Spaces:  Media rooms continue to be high on the list of "wants" as families look for ways to incorporate the latest technology into their homes and lives. No longer is their sole purpose to showcase a movie while the audience sits in the dark quietly in rows of comfortable seating. Instead they have become the social and recreational hubs of today's homes, suited to many different uses and groupings throughout the day. Combining theater seating with lounge seating and counter space provides an opportunity to socialize with friends during the game or gather the family on a weekday evening. After one recent BOWA renovation, the theater is now used nightly as family members relax together each with their own focus or project.
Repeat Remodelers:  Requirements for homes change as the family grows and matures. Often what worked wonderfully when a couple was starting out with small children is no longer the best option as children grow and schedules, hobbies and family dynamics evolve. Year after year, we are honored to have a number of BOWA clients return to us ready to take on the next phase of their home remodeling projects. For one local family, BOWA recently completed its fifth project. Renovations have included a family room expansion, a master suite addition and garage, a guest suite renovation, kids' bath renovations, and an exterior make-over.
If we can assist with these or other projects in your home, please let us know.
Guest Blog Post
by:
Josh Baker
Founder, BOWA