Remodeling Planning for your Future Home Needs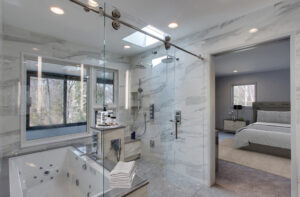 Are you at a stage of life that has you thinking about changes to your living situation? Are you beginning to think about remodeling planning for your future home needs? Perhaps you're now empty nesters, planning for your retirement years or looking for something that requires less maintenance. Clients frequently turn to us for guidance on these decisions. Some want to make their current homes more comfortable, while others are considering transitioning to a smaller home or even a condo lifestyle. The possibilities are endless and can feel overwhelming. The good news is, we're happy to help.
Universal Design
There are many perks to staying where you currently live. Maybe your location can't be beat, you love your neighbors, or just feel most comfortable at home! If aging in place is your plan, our universal design experts can help you make the adjustments necessary for staying put comfortably. Universal design creates spaces for people of all ages, abilities and mobilities and, with today's options, can still look chic and beautiful. Often, the most efficient way to keep your lifestyle at home is by creating one-level living, eliminating the everyday use of stairs. Moving a master suite to the first level, and adding handrails, ramps, and wider doorways are all simple adjustments that may allow you to remain where you are for years to come.
Purcha se Consultations
If you're debating whether to stay or move, or have already decided you don't want all the space and maintenance, give us a call. During a purchase consultation, our remodeling experts can help to quickly evaluate a home or condo for opportunities and limitations. We can provide a home inspection report analysis, as well as realistic estimates for necessary repairs or desired modifications. When you've found the right space, we can develop detailed project plans tackling everything at once or addressing top priorities first. By working alongside our realtor partners, we can help to simplify your search and then customize a new space to suit your needs.
Condo Living
If you're looking for a condo, we have you covered there too. Our team of condominium experts has the design strategies, relationships and proven methodologies required for a successful condominium renovation. Remodeling in a condo is a complex undertaking, but our experienced team can ease the process with everything from design to neighbor relations. Our condo clients who have already downsized from single-family homes give rave reviews to their new lifestyle. Well-designed spaces, a sense of community, and incorporating features from their previous homes all help to ease the transition to condo living.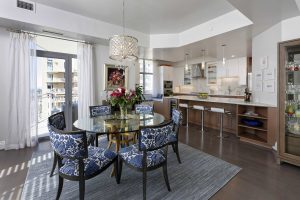 If you find yourself pondering your living situation for the next stage of life, give BOWA's experts a call. Whether you want to stay and remodel, buy and remodel or something else, we're here to help.