Remodeling Industry Recognizes BOWA as Contractor of the Year
National Association of Remodeling Industry Honors BOWA with Two Awards Following BOWA's Recent "Best of Bethesda" Recognition from Bethesda Magazine
McLean, Va. – BOWA (www.bowa.com), an award-winning residential design and construction firm specializing in luxury additions and renovations received high honors from the National Association of Remodeling Industry (NARI) Metro DC chapter as the winner of two 2015 Contractor of the Year awards.  The awards were accepted by BOWA's Doug Horgan, Vice President of Best Practices on March 5, 2016.
"BOWA thanks NARI Metro DC for these latest awards that recognize our expertise in remodeling and our skill in designing creative solutions for our clients," said Doug Horgan, Vice President of Best Practices at BOWA and regular expert contributor to The Journal of Light Construction. "This recognition, combined with our commitment to creating remarkable client experiences, helps to reaffirm BOWA as the foremost guide to luxury remodeling."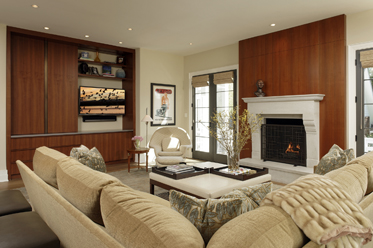 BOWA won CotY's Grand Award in the category of "Entire House over $1,000,000" for a project in Chevy Chase, MD.  In the wake of a devastating home fire, BOWA restored and renovated the home from top to bottom.  The original floorplan worked well for the family, so the focus of the project was on incorporating design elements and fine finishes that better suited their evolving needs and lifestyle.  Additionally, BOWA received a Merit Award in the category of "Entire House $250,000 to $500,000" for a whole house renovation project in Bethesda, MD.  Every area of this classic colonial was touched with a focus on improving the first floor flow, remodeling the kitchen and family room and creating a beautiful spa-like master bath.
In addition, BOWA was recently voted the Best Remodeling Firm for 2016 by Bethesda Magazine's readers.  BOWA is consistently a top vote-getter each year in the magazine's best builder category and also won the Best Remodeling Firm title the last time it was offered in 2012.
"The BOWA team is honored to be recognized by the readers of Bethesda Magazine again this year," said Steve Kirstein, principal at BOWA and longtime resident of Bethesda and Potomac.  "We are grateful for the continued opportunity to work with our wonderful clients on beautiful projects that ultimately improve their lives at home."
The awards are the latest recognition for BOWA, which has received more than 185 local and national awards honoring the company's business excellence and design and construction expertise on projects ranging from master suites and kitchens to whole-house and whole-condo remodels.  NARI also recognized winners in 46 other categories, ranging from "Residential Kitchen under $30,000" to "Custom Home over $1,000,000."
For additional information and photos of BOWA's award-winning projects, please visit www.bowa.com.
About BOWA
With a focus on delivering remarkable client experiences, BOWA specializes in luxury renovations ranging from master suites and kitchens to whole-house and whole-condo remodels.  For over 28 years, BOWA's design build experts have been guiding clients through every step of the remodeling experience from the first thoughts of the project, throughout architecture and construction, and continuing through a lifetime of ownership.  And, consistently, 95% of clients rate BOWA a 9 or a 10 when asked if they would recommend the company.  BOWA's commitment to customer service and industry-leading budget guarantee, schedule guarantee and warranty are among their reasons. With offices in McLean and Middleburg, Virginia, BOWA has won more than 185 awards for excellence and serves clients in Suburban Maryland, the District of Columbia, Northern Virginia and Virginia's Hunt Country. For more information, visit www.bowa.com or call 703-734-9050.