Remodeling Design Ideas – 4 Tips for installing screening HVAC Fences
If you are looking for some remodeling design ideas to help spruce up the look of the exterior of your home, we can help.  Often times exterior air conditioning units can detract from the overall look of a landscaped yard.  Here are some tips if you want to improve the aesthetics of your outside space.
HVAC screens that allow airflow and access
Many folks want their air conditioners hidden.
But, air flow can't be restricted, or we lose capacity, taking a 5-ton unit down to as low as 3 tons! Also, servicers need to access the units.
Here are ways we've accomplished these contradictory goals:
1.  Louvered screen
Angling the pieces allows air between them, while blocking the view.
Plenty of room for air (above)–but from eye height, the view is blocked (below).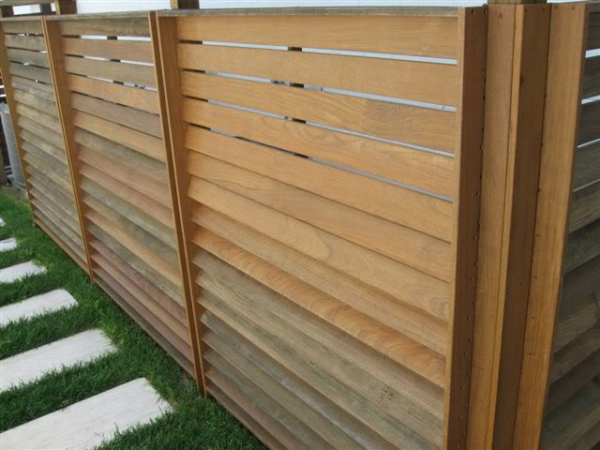 2. Bright fencing distracts the eye 
These fences don't fully block the view, but the eye focuses on the decorative fence rather than the condensers.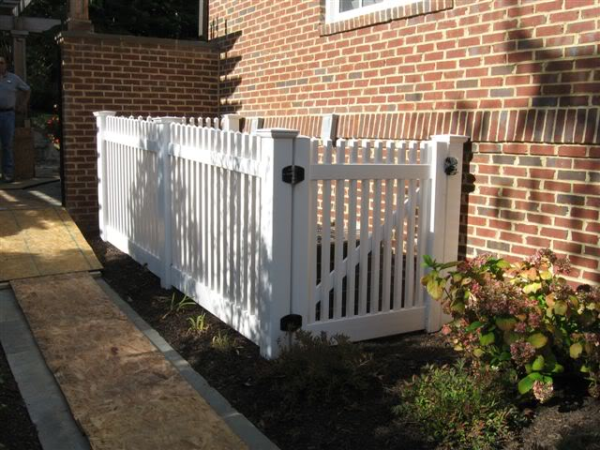 Picket fence (above) and lattice (below) are see-through but still hide well.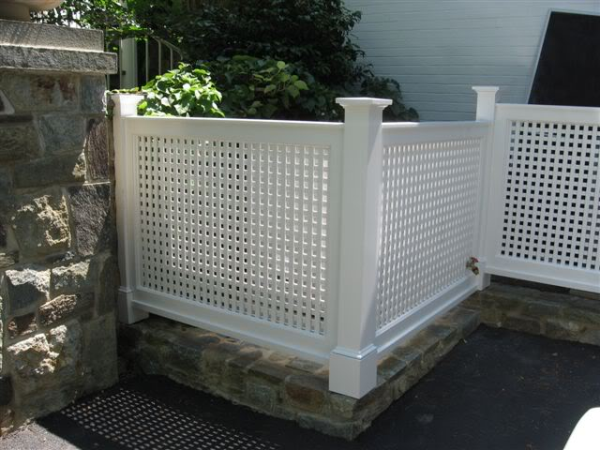 3. Access matters 
HVAC techs have 15 calls to make each day, during a heat wave. They don't have the time to figure out some complicated door.
Rik Madden and crew made it easy on the lattice setup above. The sections rest on the base trim and are held in place by simple screen door hooks.
Even an HVAC guy in a rush can figure that out (below).

4. Avoid the Issue
"Geothermal" HVAC is efficient and can be cost-effective. But, no matter how that payback calculation comes out, one thing is for certain: no outdoor units are used, so no noise, screening, or huffy landscape architects are involved!
Photo below: this is the only piece of equipment–no outdoor unit.
Doug Horgan
VP of Best Practices