Plan an Outdoor Renovation in Loudoun, VA
Loudoun County is one of the most incredible places in Virginia with its rolling countryside and beautiful views. This is truly the perfect place to create an amazing outdoor living space for entertaining or simply relaxing in your down time.  If your outdoor space isn't doing much living these days, consider these inspiring ideas for an outdoor renovation in Loudoun.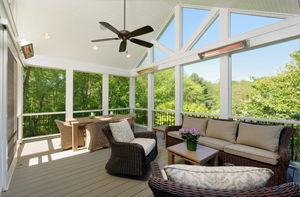 Screened Porch
Screened porches are a traditional go-to for homeowners who want to enjoy a bug-free time outdoors. Screen walls allow you to breathe in the fresh air and take in the scenery without worrying about pesky mosquitoes or other insects. Additional screening below the floor is a must-have to keep those unwanted bugs out.  Throw in a ceiling fan and heater, some ambient lighting and cozy furniture or a dining table, and you've just expanded your home's livable space for half to three-quarters of the year!
Open and Roomy
One of the best things about creating an outdoor living space is that you have fewer limitations. Your only "walls" may be a nearby patio or deck, or a privacy fence or other property border. You don't have to restrict the design of an outdoor room to limited space nor deal with other challenges common when reconfiguring your home's interior. You might even consider a tiered layout or partial covering to create multiple living spaces in one.  Make it as open and roomy as you like – the sky's the limit!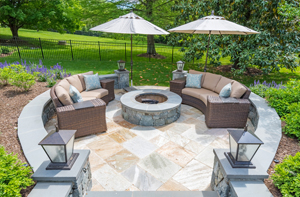 Outdoor Living Room with Fireplace
If you love an evening by a toasty fire, take it up a notch and add a fire feature to your outdoor living space. A fireplace with a chimney may be the finishing touch your outdoor room needs and can extend the usability of the space as the nights get chilly.  A fire pit with some built in seating or a ring of Adirondack chairs may also fit the bill. Either way you'll have a great place for family gatherings and making memories over s'mores!
Outdoor Kitchen and Dining Room
The beauty of an outdoor kitchen is that it can be as simple or as extravagant as you wish. If you have a passion for cooking, you can choose to incorporate many of the conveniences of your indoor kitchen, such as a sink, dishwasher and storage. You might even include special features, such as pizza ovens, warming drawers, a vent hood or a smoker cabinet. It's highly recommended, however, that outdoor kitchens have some type of covering to help protect your appliances and surfaces from the elements.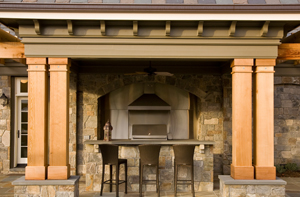 Invite the Neighbors Over for Family-Friendly Fun
Love the idea of watching the Sunday game outdoors? Then perhaps you'd like a covered entertainment area with a big screen and wet bar. Add beer or soda taps, built-in chillers and some stool-height counters or tables for a neighborhood bar vibe. Is your teen the next American Idol? Add a sound system and karaoke machine for extra family fun. Whatever your interests, we can help you create the relaxing atmosphere you deserve after a long, hectic week.
Let us help you design and build your outdoor renovation in Loudoun County, VA and we will offer up our best professional advice on what works best for your family's needs and budget. Call us at 703-734-9050 to schedule a consultation.