BOWA Wins National CotY Award for Residential Interior Renovation in Reston Condo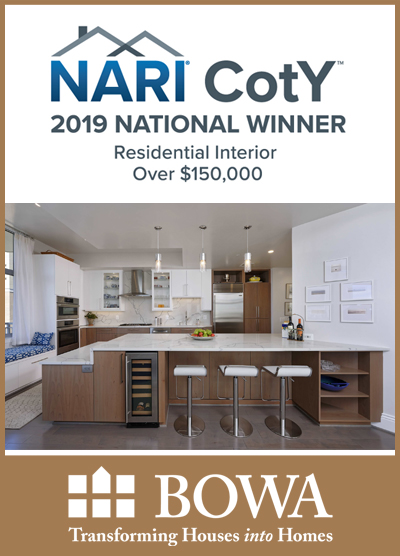 McLean, Va. – BOWA is pleased to announce that it has won the National CotY Award for Residential Interior over $150,000 in this year's competition. The National Association of the Remodeling Industry (NARI) announced BOWA's award at their "Evening of Excellence" celebration April 12th in San Diego, California. Judging for this competition is based on problem solving, functionality, aesthetics, craftsmanship, innovation, and degree of difficulty by an impartial panel of industry experts.
"We're honored to be recognized on the national stage for this condo renovation," said David Flyer, BOWA's President and Chief Operating Officer. "As we expand our condominium remodeling business throughout the DC Metro Area, it's wonderful to have our project recognized, especially considering the complex work required to renovate condos. While we continue to grow this sector of our company, this recognition from the industry and our client's happiness are truly rewarding for the entire team."
BOWA's In-House Design Team designed the contemporary sanctuary that won Residential Interior Over $150,000 in this year's competition. The original kitchen floorplan was awkward and closed off from the rest of the condo. The BOWA team opened the wall that separated the two spaces and expanded the kitchen's footprint to be more efficient and filled with additional storage. Sight lines and natural light now flow through the living and dining areas highlighting the custom display niches used for the client's china and figurine collection.
This award is the latest recognition for BOWA, which has received nearly 250 local and national awards honoring the company's business excellence and design and construction expertise on projects ranging from master suites and kitchens to whole-house and whole-condo remodels.
For a list of BOWA's awards, please visit Our Honors.  For photos of our projects, please visit our Gallery.
About BOWA
With a focus on delivering remarkable client experiences and superior construction quality, BOWA specializes in renovations ranging from master suites and kitchens to whole-house and whole-condo remodels.  For over 30 years, BOWA's design build experts have been guiding clients through every step of the remodeling experience from the first thoughts of the project, throughout architecture and construction, and continuing through a lifetime of ownership.  And, consistently, 95% of clients rate BOWA a 9 or a 10 when asked if they would recommend the company.  BOWA's commitment to customer service and industry-leading budget guarantee, schedule guarantee and warranty are among their reasons. With offices in McLean and Middleburg, Virginia, BOWA has won nearly 250 awards for excellence and serves clients in Suburban Maryland, the District of Columbia, Northern Virginia and Virginia Horse Country. For more information, visit bowa.com or call 703-734-9050.