Paul Montenegro and Steve Scholl Join BOWA's Ownership Program
They're the Latest Additions to the Group of 18 Employees Representing All Facets of the Business
McLean, Va. – BOWA is pleased to announce two new company owners, Paul Montenegro and Steve Scholl. With their additions to the Ownership Program, BOWA now has 18 employee owners, including a field technician, several project managers, customer service professionals, project leaders and early-on employees and founders.
In 1999, BOWA became one of the first remodelers in the nation to offer ownership shares to senior executives. Later, in 2007, the company broadened the Ownership Program making it available to all employees who have been with the firm for at least seven years, or in some cases less. The change was made in keeping with BOWA's Core Value of "Sharing the Success."
"I'm pleased to welcome Paul and Steve to our growing Ownership Program," said Larry Weinberg, Founder and Co-Chairman, "I look forward to working with them, along with the rest of the Ownership Group, to keep growing BOWA into the future so that we can help more and more people improve their lives at home."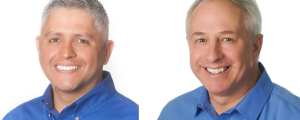 Paul Montenegro (left) and Steve Scholl (right)
Paul Montenegro joined BOWA in 2014 as a Laborer and has since worked his way up to becoming a Customer Service Manager. With over 15 years of customer service experience under his belt, Paul brings important qualities to the company, including extensive sales knowledge that he acquired prior to joining BOWA. Originally from Costa Rica, Paul studied business administration while in college before relocating to Fairfax, Virginia in 2010.
Steve Scholl joined BOWA in 2015 as a Project Leader focused on guiding clients in the finer communities of Northern Virginia. Through the National Association of the Remodeling Industry, Steve is a Certified Remodeler (CR), Certified Kitchen and Bath Remodeler (CKBR), and Universal Design Certified Professional (UDCP). Steve's vast background in the remodeling industry and his experience working directly with BOWA clients on all aspects of their renovations will be extremely valuable to the Ownership Program.
About BOWA
With a focus on delivering remarkable client experiences and superior client advocacy, BOWA specializes in luxury renovations ranging from kitchens and owners' suites to whole-house and condo remodels.  BOWA's team of design build experts guide homeowners through every step of the remodeling process – from the first thoughts of the project, throughout architecture and construction, and continuing through a lifetime of ownership. More than 80% of our projects each year come from returning clients and referrals, which we believe speaks to the experience of working with BOWA. Others can build pretty rooms, but it's BOWA's client-first approach to remodeling that has earned us this unprecedented level of loyalty and trust. BOWA was founded in 1988 and proudly serves clients throughout the Greater Washington area and Virginia's Horse Country.