Kitchen Design Ideas for 2018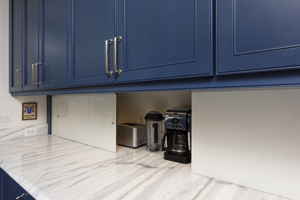 Are you looking to freshen up your kitchen?  In today's world, the kitchen is the heart of the house.  It acts as the center of family life and is often the focal point for social gatherings.  These kitchen design ideas for 2018 may spark inspiration if you're considering a kitchen renovation or just love beautiful projects.
Clever Storage
Who doesn't need more counter space?  One way to maximize your usable space and achieve a clean, sleek aesthetic is to hide all those gadgets. The perfect solution that we've been utilizing in our recent kitchen remodels is an appliance garage.  It's a convenient storage space for all those bulky appliances like coffee makers, electric mixers, toasters, food processors, even blenders and pressure cookers!  This "garage" hides all the tools while not in use, but keeps them easily accessible at a convenient height, so you don't have to search through your cabinets.
Quartz countertops are now the number one seller, over granite and marble.  Buyers appreciate the durability of the engineered stone, as well its stain resisting power.  Since quartz is a manufactured product, what you see is what you get.  With granite and other natural stones, you are limited by the slabs available.  When choosing quartz, you get a wider range of colors than you do with natural stone, greater consistency and a rich, luxurious finish.
White Hot
White kitchens continue to be very popular among our clients.  White cabinetry, countertops, and backsplashes help to create the look of a large, bright space.  Especially in a smaller kitchen, this creates a fresh, clean space to cook, entertain or work.  If an all-white kitchen isn't your style, add a pop of personality by selecting a contrasting color for your island cabinetry.  The contrasting island design continues to grow in 2018 and allows you to express your individual style.
A Space for Technology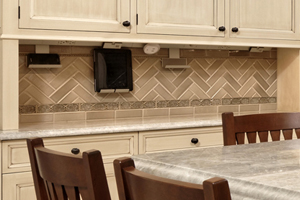 "Alexa, how many cups are in a gallon?"  While a TV is the most common technology addition to kitchen renovations, there is a growing need for a tech-specific space in the kitchen.  With smart devices helping you with your cooking and baking adventures, charging stations are often considered must-haves.  Charge your phone and listen to music while you make dinner or entertain in your kitchen.  And to answer your question, there are 16 cups in one gallon.
Style Change
Traditional styling is making way for contemporary and transitional aesthetics.  The sleek look and high functionality achieved by de-cluttering kitchen space lends itself well to contemporary styles.  Modern cabinetry, clean lines, and updated appliances maintain this contemporary style's simple philosophy.  Transitional design marries traditional and contemporary furniture, finishes, material and fabrics.  The neutral colors and clean lines allow for a timeless design in your kitchen.
These ideas are easy to achieve with the help of an experienced kitchen designer. According to Houzz, nine out of ten homeowners are hiring professionals for their kitchen renovations.  Let our experts guide you through the entire process of creating a kitchen that suits your needs and wants perfectly. If you want more information on these kitchen design ideas for 2018 or have any other questions about remodeling, let us know.