How to Select the Perfect Paint Color
So, you want to brighten things up with fresh paint in your space. You search through hundreds of paint chips and finally land on what you think is the perfect bright white. Once on the wall, however, the finished color is not what you saw on the chip. The sheen is too glossy and shows every bump in your walls, or the color is making your existing cabinetry look dingy. How do you avoid having to go through this process again? We picked the mind of one of our In-House Designers, Stephanie Dickens, to help you select the perfect paint color the first time around.
Samples Galore
There are many things to consider when choosing a new color: trim work, cabinetry, tile, and lighting to name a few. Stephanie recommends finding a paint and purchasing a sample in the color you like as well as lighter and darker shades. Paint the samples in multiple places around the room, making sure to test in areas where you can see it by itself and especially places where walls meet cabinetry, trim or tiles. Be sure to include wall space that receives direct natural light and areas that remain darker.
Once your walls are covered in samples, look at the colors at all points during the day. Does the morning light make it too bright? Does the afternoon shade make the color appear too dark? When looking at a sample immediately next to your cabinetry, tile and trim, does it bring out an undertone you didn't realize was there? Samples are your best friend in the paint world. Don't be afraid to cover your walls with sample squares until you find "the one".
Meet the Sheens
No, not Martin and Charlie, we're talking about the finishes that can make or break your paint! There are so many to choose from: High-gloss, semi-gloss, satin, eggshell, flat. How do you choose what will work best for you?
For walls, Stephanie recommends flat or matte finishes which hide most imperfections and give a nice soft appearance. Due to high light reflectivity, the glossier the sheen, the more apparent the small bumps or holes in your walls. While flat paints have a reputation for being difficult to clean when scuffed, Stephanie says the technology used to make paint has evolved and it's no longer a concern among design professionals. A quality paint will be easy to clean in any sheen.
Mind the Undertones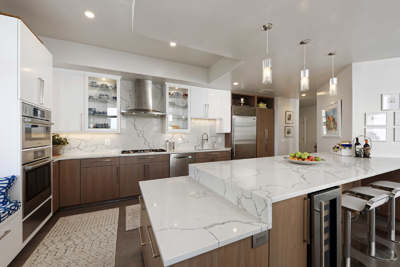 Undertones are extremely important when choosing your paint color. Stephanie breaks it down to its simplest level of cool and warm. Cool tones include icy blues and bright whites. Warm tones should make you think of earthy and cozy atmospheres. Choose a paint that contains the same undertone as your existing design, concentrating on cabinetry and tile. Stephanie recommends that once you decide the tone of your home, be it warm or cool, stay with those colors throughout to create cohesive spaces and natural transitions. Accents to add pops of color, like throw pillows, should also remain in the same tone palette. For instance, a beautiful neutral gray with green undertones would look stunning with vibrant emerald accents.
Stephanie's final words of wisdom are that design is meant to be fluid, there's no clear-cut formula for choosing the right paint. While design professionals are always available to assist with creating the perfect space, it's ultimately personal preferences that will help you select the perfect paint color to make your house a home!