Home Maintenance Tips – How to clean a chandelier
Is your chandelier ready to shine?  With the holiday season upon us, wouldn't you want to greet your guests with the warm glow of a sparkling, clean crystal chandelier? As a design build contractor specializing in remodeling, we often help our clients with advice on protecting and maintaining their largest investment – their home.  In just a few steps you can free your crystals of the dust and grime that have built up without the hassle of taking the whole piece down.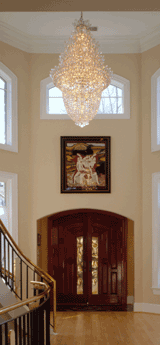 Here's how to make your chandelier sparkle again.
1.  Set up an alternate light source nearby, since you won't be able to use the chandelier while you're cleaning it.
2.  Turn off the circuit breaker for the chandelier. Or, at the very least, turn off the chandelier's power at the wall switch and place a piece of tape over the switch so that no one accidentally turns it on while you're working.
3.  Next, wrap plastic sandwich bags over each of the electrical fixtures and secure them with rubber bands.
4.  Place a drop cloth on the floor below the chandelier.
5.  Mix a solution of one part isopropyl alcohol or ammonia in three parts distilled water. Or, if you don't want to mix your own cleaner, buy a special chandelier cleaner from a lighting retailer or use your household glass cleaner. Put the solution in a spray bottle.
6.  Spray liberal amounts of the cleaning solution on the crystals, avoiding wires and other electrical components.
 7.  Allow the crystals to soak for a minute and then spray them again.  
8.  Once the crystals have dried, remove the plastic bags from the lights and wipe down the light wells and other non-crystal parts with a soft cloth dipped in the cleanser.
9.  Allow the entire fixture to dry overnight before turning its power back on.
In no time, your delicate chandelier will look as good as new.