Great Design Ideas for Your Garage Remodeling Project
Is your garage a show stopper?  Our design build remodeling professionals have put some of these great ideas to work to transform a bland garage into something unique. 
If one has a passion for cooking, he or she might consider creating a gourmet kitchen with all the luxuries desired by world-class chefs. But, what if you're a car enthusiast?  Then today's high-tech, luxury garages might be just your speed!
Whether it's a new detached showroom for a vintage car collection or a makeover to an existing space for the family car, high-end garages have been on the rise in recent years.  More and more, car aficionados are looking to create garages that are fully conditioned and decked out with storage systems, entertainment areas, plumbing, machinery and high quality finishes.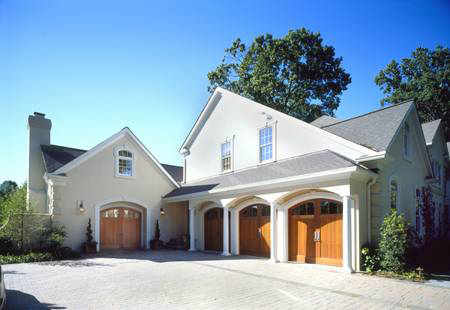 Mechanical Systems:  Whether you're looking to work on your own cars, create a private workshop for "house calls" or add additional capacity, you may consider installing a hydraulic lift.  On the upper end of the spectrum are in-ground lifts, which are flush-mounted with the floor and rise from underneath with the push of a button.  Also available are a range of above-ground post lifts that allow convenient accessibility for car servicing or, depending on ceiling height, can double or even triple garage capacity.  If you're a mechanic at heart, you may add a professional-grade air compressor for convenient power to the tools of the trade.  Another luxury option is a garage (or driveway) turntable that is installed flush to the surface and helps to maneuver vehicles into tricky spaces.
Flooring:  If your garage serves dual purposes – showroom and workshop – you may consider mixed flooring. For the display area, many choose to make an investment in quality ceramic tile for a high-end, finished look. However, as dropped objects can cause damage to these tiles and even sealed tiles can pick up stains, this solution is not ideal for the work area.  For this portion, many recommend cement floors with a dark-colored epoxy treatment, for a solution that is less expensive and virtually impenetrable.  Another all-over flooring option, which is cost-effective, durable and attractive, is rubber tile or sheet goods specifically made for the auto industry.
Lighting and Windows:  As sunlight will fade vehicle paint and fabrics, special care should be taken when deciding where (or if) to include windows. With that in mind, well-planned, high-quality artificial lighting is critical to both functionality and color accuracy. Cool fluorescent lighting with high output is ideal, especially when it carries a high Color Rendition Index (CRI), which helps to ensure that colors appear true.
Heat, Air and Humidity: A complete heating, air conditioning and dehumidifying system is important to creating an environment that is comfortable for both you and your car. Already popular in high-end homes, radiant floor heating is the most widely recommended option for garage spaces.  However, this choice requires either building from scratch or replacing the existing floor.  Another important consideration for an avid car collector is controlling humidity, which can help to prevent rust and mold.  Garage owners can choose either a basic standalone unit or a sophisticated system with digital controls that automatically maintains the desired humidity level.
Plumbing: With many garages now featuring restrooms, indoor car washes, ice makers and utility sinks, water is another must-have in the ultimate garage.  Keep in mind, however, that a garage drain will likely require separators to filter out the oil and grease.
Entertainment: As if the lure of the cars is not enough, many are choosing to turn their new garages into lounge-like gathering spaces to be shared by all. Common additions are wet bars, seating areas, pool tables, high-end sound systems and entertainment centers.
Security: Just like with the rest of your home, you want to make sure the garage and your vehicles are properly protected with a quality security system. On the lower end of the spectrum, basic out-of-the-box systems are available for just a few thousand dollars, while more sophisticated high-end systems, featuring video monitoring, motion sensors and sprinklers, could prove to be an invaluable investment.
The bottom line is garages are no longer greasy spaces overstuffed with junk, lawn tools and bicycles with a sliver of space left over for a car. With a bit of planning, today's garages are high-tech, comfortable retreats for car enthusiasts and non-enthusiasts alike.