For More Functionality Rethink Your Home's Existing Footprint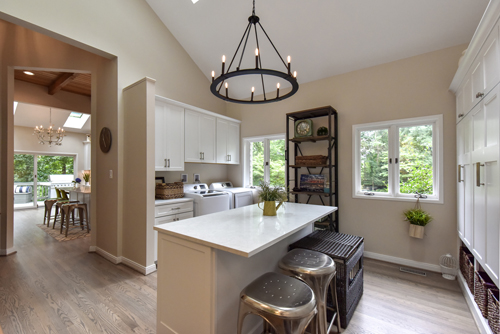 A common misconception about remodeling your home is the idea that you need to add on to get more useful space. While additions can be a great way to create the extra space or functionality you and your family need, they aren't always necessary. In some of our recent projects, the solution to more functionality wasn't an addition but instead reimagining their existing footprint.  For instance, how many times a year do you use your formal dining room? Usually, it's reserved for special occasions and holidays and the other 300+ days out of the year it collects dust. In two recent projects, our clients evaluated their existing footprints and decided their formal dining rooms could be better used in a different capacity.
Our client originally had a small mudroom off the garage, that also housed her laundry area. With three daughters and a busy lifestyle, she realized her intimate formal dining area near the kitchen would be better utilized as a multipurpose room. The laundry machines were moved to this space, a full wall of storage was installed, and a large island was placed in the middle of the room for crafts, activities or folding laundry. It's now a light-filled, inspiring room that her family uses every day instead of wasted space that was used three times a year. By reimagining the existing space, the client's home is now more useful and practical for the family's day-to-day life.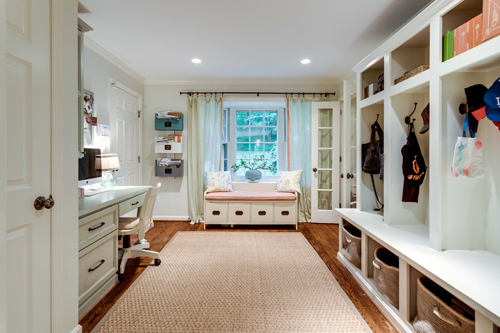 Another one of our recent clients had a similar situation. With a young family, imagine coming home from a muddy soccer practice and walking straight into your dining room from the garage. They decided to reexamine the floorplan on their first level and find opportunities for a more efficient and practical layout. The original location of their formal living room now holds their dining room, and a large family foyer with home office is now located where their dining room once was. The new space created a perfect buffer between outdoor and indoor living as the room features custom built-ins to neatly stash bags, shoes, and pet toys. This multipurpose foyer now keeps the clutter under control from the moment our clients walk through the door, creating a more relaxing and inviting home environment.
If you're considering a home renovation to create more usable space, you may not need to build an addition. The design team at BOWA can help you maximize the space you already have and create an environment that's functional, efficient and cohesive. Our experts are well versed in transforming traditional homes into beautiful and practical spaces for today's busy families.