Remodeling Safely Despite the Pandemic
Area families enjoying their new spaces and thankful they moved forward with their projects
Throughout the pandemic, the safe harbor of our homes has come to mean so much more than ever before.  With the increased amount of time spent around the house, we are enjoying the things that are working well, and not surprisingly, have become laser-focused on the areas that need anything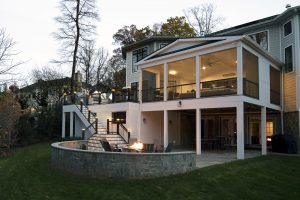 from a little refresh to a major renovation.  But, as folks remain cautious about coronavirus and the related variants, many question whether remodeling can be done safely at this time.  The answer is yes when safety is made a priority.  Thanks to our team's commitment, clients are thrilled that they kept the ball rolling on their projects.
From the very earliest point in the pandemic, BOWA ramped up safety protocols to help protect our team members, clients and partners.  Remodeling with enhanced precautions, such as mask wearing, symptom monitoring, sanitizing, using negative air machines and holding virtual meetings when appropriate, quickly became the norm and will continue for the foreseeable future.  Thanks to the vigilance of the team, we are fortunate to have remained largely healthy and to have maintained a busy schedule of projects.
From a client's perspective, what did it look like to undergo a renovation during a pandemic?  What were the challenges to remodeling safely during COVID-19?  What were the surprises?
Two BOWA clients who renovated during the early months of the pandemic had a similar goal for their very different projects – a screened porch addition with new deck and lower-level patio, and the other a kitchen bump out and second-level owners' bath remodel.  Prior to COVID-19, both homes were the location of weekly gatherings of family and friends, and both couples had begun the planning process in late 2019 to enhance the spaces where they entertained the most.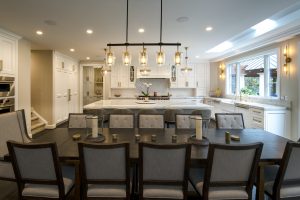 What surprised both clients was that their projects were started and completed according to the agreed-upon schedule, and in fact, the kitchen project finished two weeks ahead of time.  BOWA's design and production teams stayed on top of selections and material availability to minimize delays, even preordering appliances and storing them on-site until needed.  Additionally, our clients appreciated BOWA's flexible production schedule, designed to allow the on-site project managers to rearrange construction phases to accommodate changing conditions and keep the project moving forward.
What didn't change was BOWA's schedule of weekly on-site meetings.  For these clients, we continued to hold them in person with essential personnel and outdoors when possible,  and always with stringent safety protocols in place, including social distancing and masks. Other clients, however, opted for virtual meetings and photo sharing to stay on top of their projects' progress.  Either way, our culture of communication, even over-communication, ensures that all parties are on the same page and available to address and resolve issues efficiently.
The take-away from both was that their renovations went remarkably smoothly and, in the words of one, that "it was the BOWA people that made the experience different."  It's been well over a year since the pandemic upended our lives, but thanks to their trust in BOWA and our processes, these two clients – and many more – are now able to take advantage of their beautifully renovated spaces to create even more memories with loved ones.