Design Build Remodeling Tips – Do You Have a Backup Power System?
Do you have a backup power system?  In the greater Washington area of Virginia, Maryland and DC, we can lose power for any number of reasons – ice storms, heavy winds, thunderstorms, etc.  Wouldn't you prefer to "suffer" through the outage with your lights, climate-control and refrigeration uninterrupted?  A backup power system may be the answer.  If you are planning a design build renovation or any kind of home remodeling project, consider some of the advantages to backup power.
Today, residential backup systems are becoming more common place and more than just a convenience. When the heater is running pipes won't freeze, and when the security system is powered intruders are held at bay.  Backup power comes from gas generators or battery systems.  Gas generators are powered by natural gas/propane or diesel fuel.  The fuel runs an engine which produces new energy. Gas generators require more involvement from the homeowner, including regular oil changes, fueling and other maintenance typical for engines.  Modern battery systems are lower-maintenance but don't keep the power on as long. Chargeable battery systems harness and store existing utility power for later use and can keep systems running for up to 48 hours. Either system is normally set up to start automatically, whether you are at home asleep or across the country when the power failure occurs. The system's components continuously monitor your home's utility power for an interruption. When the system senses an outage, the generator or battery bank restores the electrical load within seconds.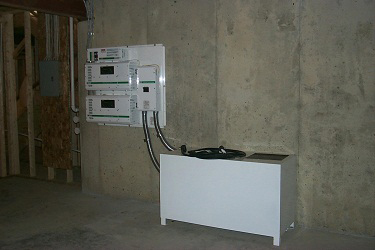 What to Consider with Backup Power Systems
First decide what must keep running and for how long. Do you want essential items to be powered? Or, do you want to provide power to your whole house?
Total essential wattage determines the size of your backup system (backup power systems are typically rated by the amount of wattage they can produce).
Add up the wattage requirements of each of the necessary items to determine the wattage of the backup system you need.
Wattage calculations for backup power systems must accommodate the peak power load of all the devices to which they supply electricity. Accommodations are required for startup (which often uses more power), as well as the steady-run rate for all appliances.
For extended outages, the battery system can be recharged with a portable generator if needed.
Certainly you will want to consult a licensed professional contractor for installation of a backup power system or any other matters pertaining to your home's electrical systems.
As there are numerous factors to consider when choosing and installing a backup power system, please feel free to contact us if we can be of assistance.