Deconstruction: the thrifty, green start to your remodeling project
Though the trades are full of former majors in literature, philosophy, and other liberal arts (not to mention lapsed biologists, accountants, and engineers), to us, "deconstruction" doesn't mean a once-trendy intellectual movement from the Continent, it means careful demolition of materials, for re-use.
In remodeling, every project involves taking something apart. When we create an addition, we remove the wall of the old house at the connection. When we build a second floor, we take off the original roof. Kitchen renovations result in leftover cabinetry and mismatched appliances. Sometimes we even remove an entire house for replacement with a comfortable, energy efficient new custom home.
Organizations like Second Chance in Baltimore, Community Forklift in Hyattsville Maryland, and Habitat for Humanity chapters, recognized the value in the materials being removed during renovation or demolition projects. They set up organizations to collect and resell the materials. Other businesses started up to perform the work of removing materials from houses.
In the last few years, we've saved dozens and dozens of dumpsters full of materials from landfills. Besides kitchen cabinets, plumbing and electrical fixtures, and out-dated appliances, the deconstruction crews can salvage materials you might not have realized were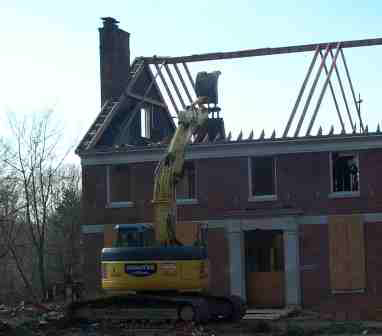 possible.
Hardwood floors are one example. The discriminating eye will notice that today's floors have shorter average length and more figure compared to those of generations ago, creating demand for the longer, clearer boards of yesterday. While there's a fair amount of work involved, the individual boards in a hardwood floor can be carefully pulled up and the nails removed. In most cases, the board is ready to be reinstalled and serve decades more.
Slate roofs are another salvageable material. In fact, the highest quality slates last centuries, and reusing them is common in regions where slate roofing is more common.
Most all the wood framing in a house can be resold and used for new houses, or any purpose you'd use wood for. Some older buildings hold a treasury of old-growth lumber that would be very expensive if you could even find it. Others are merely a source for inexpensive framing lumber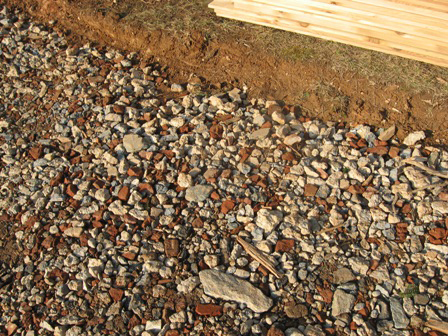 for a backyard shed. Either way, it's worth salvaging. With today's high scrap metal prices, sorting pipes & wires for recycling is also common.
On the larger projects, we've deconstructed nearly an entire
house. All that's left is a foundation and perhaps a brick shell. Rather than haul these to a landfill, we've crushed the masonry on site for driveway base, saving both the cost of removal and of new gravel for the drive.
The expertise of the quick-moving deconstruction crews, the value of the materials, and attractive tax incentives combine to make deconstruction cost-neutral with the landfill, and it's something we can all be happier about!