Tim Burch and Adam Wertheimer Join BOWA's Ownership Group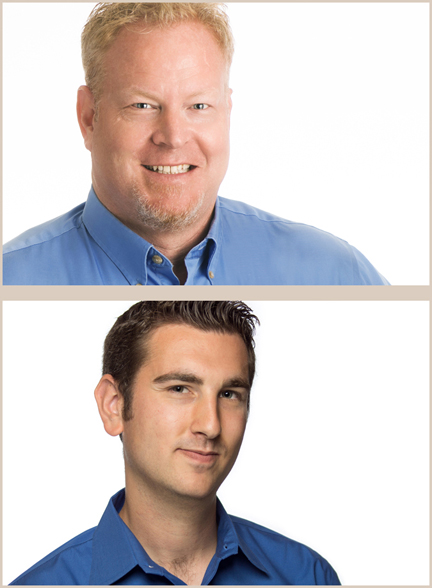 McLean, Va. – BOWA is pleased to announce two new company owners, Tim Burch and Adam Wertheimer. With their additions, BOWA now has 19 owners, including a field technician, several project managers, customer service professionals, project leaders and early-on employees and founders.
In 1999, BOWA became one of the first remodelers in the nation to offer ownership shares to senior executives. Later, in 2007, the company broadened the Ownership Program making it available to all employees who have been with the firm for at least seven years, or in some cases less. The change was made in keeping with BOWA's Core Value of "Sharing the Success."
"I'm pleased to welcome Tim Burch and Adam Wertheimer to our growing Ownership Group," said Larry Weinberg, Founder and Co-Chairman. "Their hard work, valuable input and commitment to BOWA are exactly what we wanted to reward when we expanded our Ownership Program 11 years ago."
Tim Burch joined BOWA in 2012, and is the Vice President of BOWA's Middleburg office, which serves clients in the Loudoun and Fauquier County areas. A Northern Virginia native and third-generation builder, Tim is the Construction Advisor for The Mosby Heritage Area Association and sits on the Board of Building Appeals for Fauquier County. Prior to joining BOWA, Tim was the Lead Project Manager of Construction for the Emmy Award winning construction reality television show, Extreme Makeover Home Edition on ABC Television.
Adam Wertheimer also joined BOWA in 2012 and, as Project Leader, works predominantly with our single-family-home and condo clients throughout the Bethesda and Chevy Chase areas.  Born and raised in Potomac, Adam has many years of experience in local residential construction and residential and commercial property management. He received his MBA from American University with a specialization in real estate and also holds a Bachelor of Science degree in real estate finance and marketing from American. He earned his NAHB Certified Green Professional designation in 2008.
About BOWA
With a focus on delivering remarkable client experiences and superior construction quality, BOWA specializes in renovations ranging from master suites and kitchens to whole-house and whole-condo remodels.  For over 30 years, BOWA's design build experts have been guiding clients through every step of the remodeling experience from the first thoughts of the project, throughout architecture and construction, and continuing through a lifetime of ownership.  And, consistently, 95% of clients rate BOWA a 9 or a 10 when asked if they would recommend the company.  BOWA's profound commitment to customer service and the caliber of its team are often among their reasons. With offices in McLean and Middleburg, Virginia, BOWA has won over 200 awards for excellence and serves clients in Suburban Maryland, the District of Columbia, Northern Virginia and Virginia Horse Country. For more information, visit bowa.com or call 703-734-9050.