BOWA Spring Cleanup at Lift Me Up!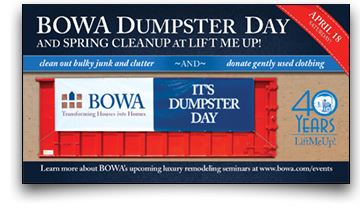 Join BOWA and Lift Me Up! on Saturday, April 18th to get a jump start on your spring! As the weather warms up it is the perfect time to clean out the garage, basement or your closets.  Let BOWA assist you with the disposal of your unwanted clutter.
Volunteers will also be available to help you unload! Cash donations are gladly accepted and all proceeds will benefit the "Good fences make good neighbors campaign" as part of a comprehensive initiative to replace all the fences on the farm. Click here to learn more about therapeutic riding, volunteer and other ways you can support Lift Me Up!
MetroAid will be on hand to facilitate donations of gently used clothing.  For more information on how these donations directly benefit Lift Me Up! click here.  Receipts will be provided for all donations.
Date:  Saturday, April 18, 2015

Time:  4:00 – 6:00 pm
Where:  Lift Me Up! – 9700 Georgetown Pike, Great Falls, VA 22066
What:  Gently  used clothing for donation; broken & oversized items, junk, etc. to discard. Please note:  no electronics, paint or hazardarous materials will be accepted.
For more information call George Hodges-Fulton at 703-873-8002.