BOWA Sponsors 14th Annual Autism Speaks 5K Run/1 Mile Walk in Potomac, MD
July 4 Race Has Contributed $2.5 Million to Autism Advocacy and Research
McLean, Va. –BOWA (www.bowa.com), an award-winning residential remodel and construction firm specializing in luxury additions and renovations, will once again serve as the presenting sponsor for the Autism Speaks 5K Run – 1 Mile Walk in Potomac, Md. on July 4, 2014. This year marks the 14th Anniversary of the Autism Speaks 5K, and BOWA's 11th year as a key sponsor.  BOWA principal Steve Kirstein is Sponsorship Chair for the Autism Speaks 5K Run and is the founder of the Richie's Racers team in honor of his son Richard. The race has raised $2.5 million for autism advocacy and research in its 14 year history, largely due to BOWA and Richie's Racers, which is one of the top fundraising teams in the race.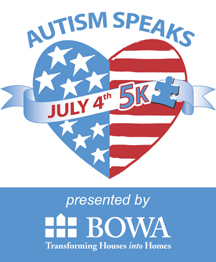 "Autism is something that affects so many people around us and we are so proud to, once again, show our support for this worthy and noble organization that helps make the challenge of autism just a little bit easier," said Steve Kirstein, BOWA principal. "The Annual Autism 5K is a moment when our whole BOWA team comes together and gives back to our community. Fostering community growth is a founding principal of our work and that makes this event one of our highlights of our year."
The community event is open to both competitive runners and families with children of all ages. Runners will line up at 7:30 a.m. for a warm up in the Potomac Village Library Parking Lot on 10101 Glenolden Dr., Potomac, MD 20854. The 5K race will begin at 8 a.m. and the 1-mile walk will start shortly after at 8:05 a.m. T-shirts for all registrants and prizes will be awarded after the event during a celebration including food and music.
Those interested in supporting BOWA's Richie's Racers are invited to donate to the Richie's Racers team page, sign up to run for Richie's Racers or sign up for a "Virtual 5K" as a member of Richie's Racers. General registration is available at www.autismspeaks5k.org. Participation in the 5K requires a $35 entry fee for adults and $15 for children (under 14). Online registration closes at 5 p.m. EST on July 2. For more information about Autism Speaks, please contact Steve Kirstein at [email protected], or Susan Pereles at [email protected].
About BOWA BOWA specializes in luxury renovations ranging from master suites and kitchens to whole-house and whole-condo remodels.  For over 25 years, BOWA's design build experts have been guiding clients through every step of the remodeling experience from the first thoughts of the project, throughout architecture and construction, and continuing through a lifetime of ownership.  And, consistently, 97% of clients rate BOWA a 9 or a 10 when asked if they would recommend the company.  BOWA's commitment to customer service and industry-leading budget guarantee, schedule guarantee and warranty are cited among their reasons. With offices in McLean and Middleburg, Virginia, BOWA has won more than 170 awards for excellence and serves clients in Suburban Maryland, the District of Columbia and Northern Virginia. For more information, visit www.bowa.com or call 703-734-9050.