BOWA is Presenting Sponsor for 2011 Autism Speaks July 4th 5K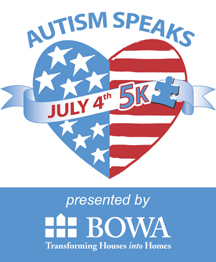 With less than a month to go, I'm kicking into high gear for my second year as Sponsorship Chair for the Autism Speaks July 4th 5K Run/1 Mile Walk, presented by BOWA.  For the past ten years, the generous support of sponsors, donors and participants has made this event tremendously successful, contributing over $2 million to Autism Speaks.
With one in every 110 children affected by autism, and
one in every 70 boys, this national crisis is everyone's cause.
The race attracts both competitive runners and families with children of all ages, and is a wonderful start to Independence Day.  The local event kicks off at 7:30 a.m. on Monday, July 4, with a pre-race warm-up.  Runners participating in the 5K will depart from the Potomac Library, 10101 Glenolden Drive, Potomac, MD 20854 at 8:00 a.m. followed by the one-mile walkers.  Post-race activities will include food, music, prizes and fun for the whole family.
I hope you'll consider getting involved.  There is still plenty of time to register for Richie's Racers Team BOWA, in honor of my son Richard.  Whether you wish to become a donor, a participant or both, simply click here to join Richie's Racers Team BOWA. 
Not in town on July 4th?  In its third year, the "Run Anywhere" initiative allows you to participate – either solo or as a group – wherever you might be for the holiday.  Even if you're joining us virtually, you can still sign up to be part of Richie's Races Team BOWA to raise money for autism awareness.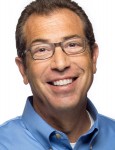 Guest Blog Post by:
Steve Kirstein
Principal, BOWA