BOWA, HomeAid Complete Townhome Renovation for Cornerstones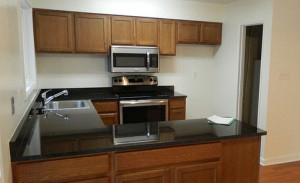 HomeAid Northern Virginia and BOWA put the finishing touches on a $62,000 townhome renovation project for Cornerstones in January, allowing a single mom and her two young children to move out of a shelter and into an updated and beautiful home. BOWA, a three-time Builder Captain, and its 14 trade partners donated 91 percent of their labor and materials.
The renovations included: new flooring and carpet throughout; interior paint; new fixtures in a powder room and a completely renovated full bathroom; new granite countertops and new kitchen appliances; updated kitchen cabinetry; upgraded electrical components; and power-washing outside.
John Murray, vice president of production with BOWA, said of the experience, "Working with HomeAid is always a great way to give back, and since renovating and improving homes is our expertise, it feels good to do projects like this with our suppliers and trade partners. We loved working with Cornerstones to make a great home for a family."

"The investment in the property is invaluable," said Nicole de Lima Morris, senior asset manager for Housing and Community Development for Cornerstones. "Our housing stock is aging, and having significant, donated work like this allows us to save reserves and put additional funds into social service programs for the family."
"The savings from previous HomeAid projects even allowed us to roll out our new HOUSE [Housing OpportUnities Strengthen Everyone] Resident Incentive Program, which this mom is enrolled in," she added. "It will allow her to receive monetary incentives—which we put into trust savings accounts—for good housekeeping, timely rent payments, completing financial education trainings and other milestone achievements. She'll see a financial mentor and attend financial classes every month, too."
"It's hard to put into words how much HomeAid and its partners can help, but seeing this family in a beautiful home that was renovated thanks to HomeAid, and benefiting from a program we were able to start thanks to HomeAid, is just huge," she said.
Article Courtesy of HomeAid Northern Virginia