BOWA Home Cleanup Day – Coming Soon to Westmoreland Hills
As a thank you to our project neighbors in Westmoreland Hills, BOWA will be holding a fall Home Cleanup Day o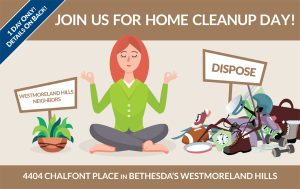 n Thursday, October 14th.  Grab those bags of stuff sitting in your basement or garage and let us help you with your fall cleaning by disposing of your unwanted clutter!
On Home Cleanup Day, bring your items to our project dumpster and ask for the project supervisor who will be happy to help you unload your junk.  If you don't have junk this time (we're jealous), we hope you'll stop by anyway to say "hi!"  
Date:  Thursday,  October 14, 2021
Time:  8:00-10:00 am
Where:  4404 Chalfont Place, Bethesda, Maryland
What:  Broken & oversized items and junk for disposal.  Unfortunately, we cannot accept electronics, paint, hazardous materials, or yard waste.
For more information:  Call Chris Smith at (443) 271-7342.