5 Design Trends for 2021 – The Fresh Prince, Hide-and-Seek, and Ceiling Area Rugs
BOWA's VP of Design TJ Monahan shares what he expects to see in 2021 renovations
With 2021 here, I'd like to take a minute – I'm tempted to quote the Fresh Prince of Bel-Air theme song here, but I figured the first line of the blog post wasn't the best spot to lose anyone who isn't up to speed on their 90's pop culture trivia – nah forget it, I'm doing it – I'd like to take a minute, just sit right there, I'll tell you all the design trends you might see this year.  Still with me?  OK, we can move on.
The start of a new year is a time of reflection and projection. 2020 was a pretty weird year, so let's focus on the projection part.  When I think about what might become more popular this year, and what our clients might start requesting more often, I like to consider it similarly to this chart that is used for technological adoption life cycles: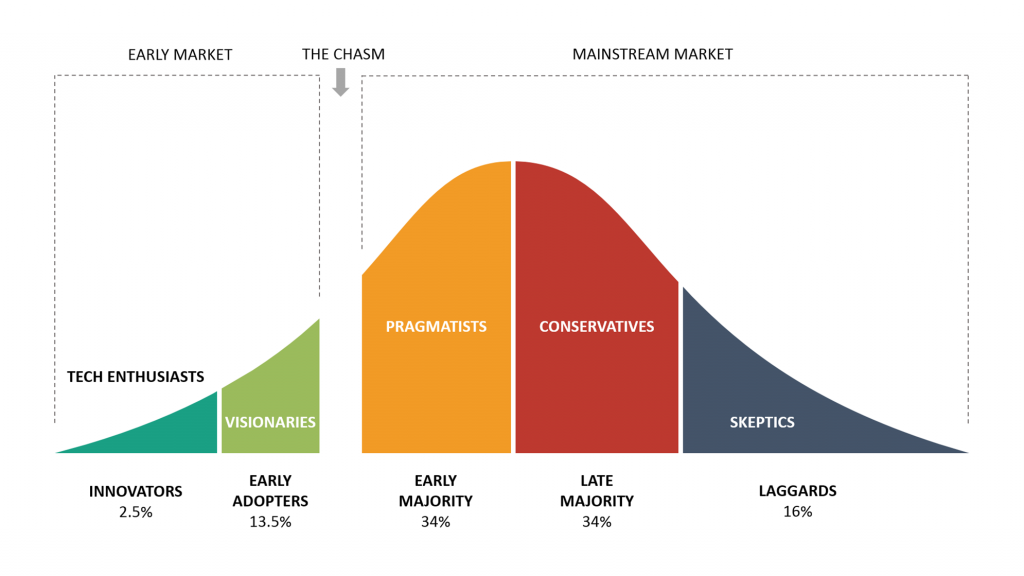 Here's what the chart is saying: There will always be people who are willing to jump on a new product (or design trend) because they're interested in being "the first" – if you bought the first iPhone, maybe you're one of these people.  In the chart, these people are called the Innovators.  As more people catch on – mostly through word of mouth at this point – you get to the Early Adopters section.  For something to become mainstream, it needs to cross the chasm and become adopted by the Early Majority.  Design trends are very similar.  Most professional designers are in the Innovators category when it comes to trends.  I'll give you a personal example.
Five years ago, my wife and I designed and built a new home.  At the time, gray and white kitchens were very popular (solidly in the majority) – I had designed so many of them at work that I wanted something different for my own home.  We liked the idea of a two-tone kitchen, so we went with navy blue and white.  Check it out: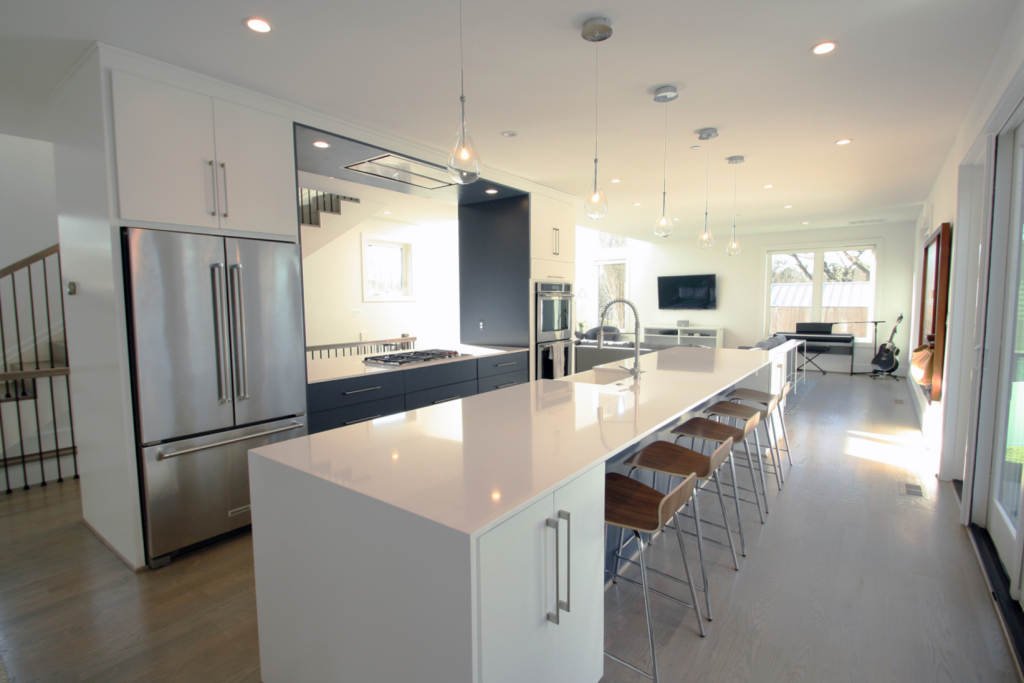 At the time, I had never designed, or seen, a navy blue kitchen.  Fast forward to today, navy blue and white cabinets raced through innovators and early adopters, crossed the chasm, and made it to the majority – they're very popular.
For the rest of this post, I'm going to discuss trends that I've been noticing and, in my opinion, could become popular but haven't yet crossed the chasm.
Dark Green Cabinets
So if navy blue is in the majority, what might be next?  I've already started to see kitchens on Houzz and Instagram with dark green cabinetry.  Here's one that made its way to Netflix: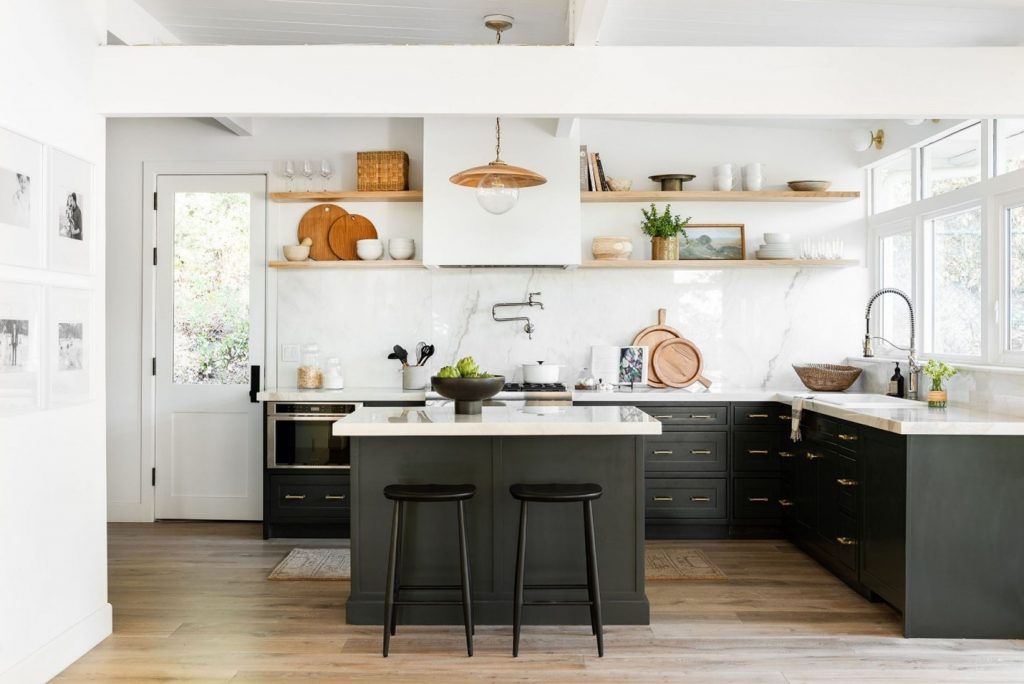 The green is so dark here, it doesn't read as green right away.  It's a subtle way to introduce a color that still acts like a neutral.  For people interested in black cabinets, I'd recommend considering something like the dark green above – it's got more depth and nuance than black, and for me, makes a more interesting composition.
Integrated Toilets
Bidets used to be super popular – I can't begin to tell you how many we remove – literally, I can't – so many that it's not worth counting.  They just don't make a lot of sense anymore.  They take up floor space, look pretty terrible, and are seldom used.  Classic three-strike situation right there.
In Asia, integrated toilets have been popular for a long time.  Basically, it's a combo of a bidet and a toilet.  There are additional features like an automatic lid and seat warmer, and if you want to get really fancy, you can get one with ambient light and built-in speakers.  They've been available here for a while and are just now starting to catch on.
They're nice because they don't take up any more space than the toilet would, generally look a bit sleeker, and give you the option for the bidet feature should you be interested.  Here's one from Toto that I like: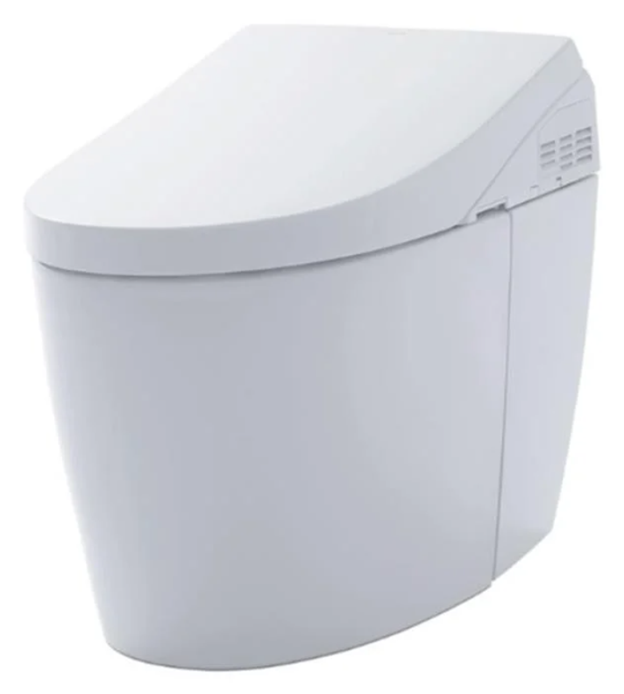 There are a few things to be mindful of if you're interested in upgrading your toilet.  The first is the cost.  The standard toilet we all have right now might run you around $400.  An integrated toilet is probably closer to $3000 (or as much as $8000 if you're getting all the bells and whistles).  These toilets also require power, so you need to have an outlet close by.  Finally, you need to make sure whomever is installing the toilet has done one before – there's a learning curve, and toilet installation is not someplace I want to mess around.
I expect that in 2021, every bathroom project I'm involved in will, at a minimum, plan for a future integrated toilet by installing an outlet nearby – typically low on the wall behind the toilet.  We've already seen an increase in integrated toilet requests, so I'm expecting them to become standard in high-end homeowner bathrooms very soon.
Wireless Charging in Countertops
For the last few years, new smart phones (and some wearables) have been built to include Qi wireless charging.  That means you can lay it down on a charging pad instead of plugging it in.
Well, did you know that you can build a charging pad into a countertop?  It's true – wireless charging without seeing the pad or its power cord!  Makes me feel like I'm living in the future.  It works by installing a charging unit below your countertop, like this:

There are some limitations in making this work, like the thickness of the countertop, but as long as we know those limitations at the beginning, we can make this work on most of the tops we install.
This is very cool technology, so my judgment on it being a 2021 trend may be a bit clouded.  I'm hopeful it gains popularity this year, but I might be a year early on this one.
Hidden Doors
Here's one where I'm definitely not a year early.  Hidden doors are super fun and our clients are starting to ask for them, which is very exciting for me.
Back when we designed our house with the blue cabinets, we put in 2 hidden doors – one for each of our kids.  They're a big hit with them and their friends.
Hidden doors aren't only for kids though.
We recently finished a kitchen remodel that had an existing walk-in pantry.  Instead of having a normal-old door to the pantry, we made it look like it was another tall cabinet door.
Not only is this detail fun and unexpected, it looks way nicer.  It's like the difference between buying a suit off the rack and having one tailored to fit you.  Both are fine options, one just looks nicer – and in this case, makes an incredible hiding spot when you're playing hide-and-seek with people who don't know it was tailored.
Subtle Ceiling Details
Coffered ceilings were, and are, a very popular detail.  When you're going for a traditional look, they're hard to beat.  But what if you don't have high ceilings and aren't interested in building the coffers down and losing height, or what if your style isn't traditional, or maybe you want a ceiling detail in your new kitchen without sacrificing cabinet height?
I'm starting to see more subtle details – something that is interesting when you look up, but doesn't take up much space.  Here's a kitchen and eating area that we recently finished: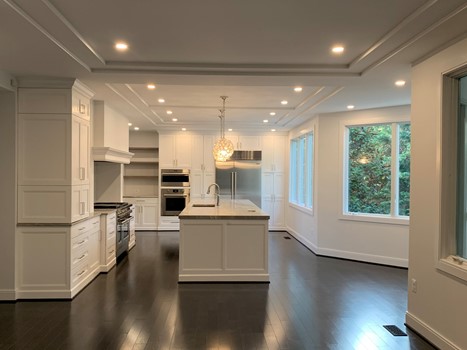 The coffers here are very shallow.  They're deep enough to be noticeable, but not so deep that they're the focal point.  They're also nice because they help to define the spaces – almost like an area rug for your ceiling.  One extra subtle detail I'll point out since you've stuck with me this far – the shallow stacked coffer in the ceiling mimics the detail in the cabinet door – which is also stacked.
The End
Wow, we really meandered our way through this post – The Fresh Prince, technology charts, tailored suits, hide-and seek, ceiling area rugs.  Hopefully, it was a fun meander though – I had fun writing it.
I wish you a happy, healthy, and fun new year.  I'm looking forward to seeing all the interesting things we create together this year.
Hope to see you in 2021 (or maybe it's 2023 and you stumbled across this post in our archives, in which case, send me an email and let me know how many of these trends I got right).