project profile

Transitional Kitchen Renovation in Washington, DC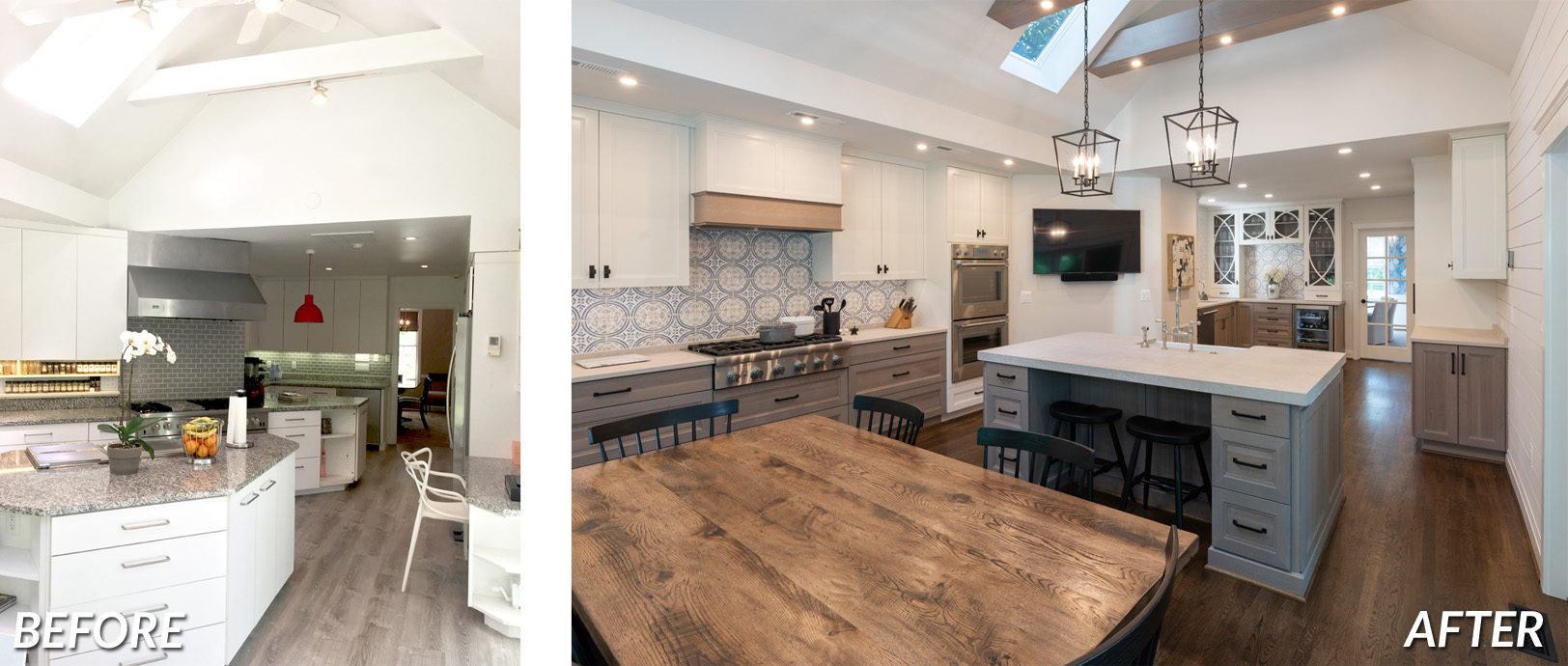 Many buyers purchase a home knowing they will want to remodel, and that was exactly the case for this area family. Having renovated many times in the past, the buyers knew this time they wanted a partner that offered a turnkey solution for both design and construction. At the suggestion of their realtor, they contacted BOWA.
While conversations began before they settled on the home, the new owners spent the next few months living in the space and learning what did and did not work for them. They agreed that improving the choppy, unwelcoming kitchen while disguising an awkwardly placed mechanical closet was their top priority and had compiled a detailed list of wants and needs. The family engaged BOWA and our design team to create the warm, cozy kitchen they all desired.
The origin layout was almost serpentine, due to a triangular island and an exterior mechanical closet that jetted into the space. In the existing plan, counters and the stove followed these lines, creating an awkward, meandering flow and closed-in feel. The owners decided they wanted to allocate their budget towards sophisticated finishes instead of moving this closet, so the team went to work on the best option.
The solution was minimizing the impact of the mechanical closet by removing any additional protrusions in that area. The space is now significantly brighter and more welcoming thanks to the open design and improved connection to the butler's pantry and wine bar area. The flow also benefitted from relocating and squaring off the center island, which now houses the main sink, plenty of storage and a few seats for casual meals. The relocated island also created room for a large, dining table, which was important to the family.
One of the owners said, "Not only is it a great space for family gatherings, but when I'm by myself and I sit at the island to have lunch I feel peaceful. It's such a calming space."
Natural wood on the base cabinets, which was echoed on the wraps of the augmented ceiling beams, hand-painted terra cotta tiles and a soothing color palette all contribute to the warm, comforting feel the owners so enjoy. Carrying the finishes throughout, while highlighting certain functional areas with complementary details, helped to make the large space feel more intimate.
The icing on the cake is an improved connection to the beautiful rear yard, with lovely views of the patio and pool beyond. New sliding doors and carrying the warm interior finishes to the two-step transition to the patio helped to create continuity.