Sharing Our Favorite Things – Our Favorite Outdoor Spaces at Home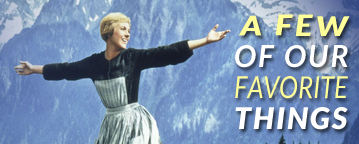 Despite the recent string of storms that blew through this week, the weather has been fantastic and we're obsessed with being outside!  While things are beginning to open up in the metropolitan area, many of us are still sticking close to home and our outdoor spaces have become a haven for family…and now maybe a handful of friends.
What are you planning for your outside spaces?  Whether it's a backyard movie night for the kids or a cozy chat by the firepit, there's sure to be something for everyone.  By the way, if you have a green thumb, you might want to check out this "how to" video so that you always have fresh basil on hand!
See what some of our folks enjoy most about their outdoor spaces…

TIM BURCH
VP, Middleburg Office
"My gardens are my place to start and end each day.  In today's crazy times it's nice to have something you can nurture and watch grow."

CARLY HAZARD
PRODUCTION COORDINATOR
"Whipping up cocktails in our under-deck space 'Hazard's Hideaway!'"


MICK SPRING
PRODUCTION MANAGER
"After growing tired of being 'the shoemaker whose kids have no shoes,' I finally single-handedly built a 2-level deck with a waterproof hangout room underneath.  It's where I draw my inspiration for my weekly Dad Jokes!"
DAVID FLYER
CEO
"Favorite outdoor space?  That's easy!  It's my screened porch – it's my outside/inside oasis."


Kathy Kelly Hines
VP of Marketing
"Nothing like a firepit and a movie! We love watching outdoor movies, and have it down to a science now. We have a big screen setup for when we have guests, but when it's just us we simply project on the canopy of our pergola." 

We'd love to hear what you love (or not) about your home's outdoor spaces!
Enjoy more of BOWA's "Our Favorite Things" Series:
Our Favorite Games – coming soon!
Our Favorite Sports/Activities – coming soon!
Home Projects I've Been Working On – coming soon!
Dream Destination Once We Can Travel Again – coming soon!
Restaurants We Can't Wait to Visit Again – coming soon!
New Hobbies/Skills I've Developed While Home – coming soon!