The Great Debate – Selecting Countertop Materials
We receive lots of questions when it comes to selecting countertop materials. What will look the best?  What's the most bang for my buck?  How much maintenance is required?  These are all great questions, and important points to consider.  While we're always here to educate and advise, ultimately, the best choice of countertops for you and your family is a personal decision.  Consider the following tips about a few options in today's world of countertops.
Granite
Granite is a natural stone extracted from the earth, cut into sheets or slabs, and crafted with finishes such as polished, honed or leathered. There are seven levels of granite, ranked by price and rarity. Level one is made up of the most common types of granite.  This type is usually dark, either black or green, with very little variation in the pattern or movement.  As you increase in levels, you'll see lighter options with more movement in the pattern.  With more movement and color options comes a larger price tag.  Exotics, the highest level, are the most expensive and rare, often containing crystals and fossils. Granite is more porous and takes more care than the next option, quartz.
Quartz
Quartz is also a natural product found in the earth.  However, for countertop purposes, it is ground up and put back together in sheet form using a binder, ultimately classifying it as a man-made material.  Typically, you'll find 90% quartz and 10% binder in your slab options.  For you as a consumer, this means more consistency in color, pattern, and movement, even the ability to replicate the look and feel of granite and marble.  Quartz is more affordable and easier to maintain, which is why a majority of our clients choose quartz countertops for their bathroom and kitchen remodels.
Be careful not to confuse quartz with quartzite. Quartzite is a natural stone like granite, but softer and more porous.  With this all-natural product, be prepared to pay a price tag closer to the "exotic" granite.  Other quartz countertops will begin in the price range of a level three granite countertop.
Other
While those are the most common, there are other options available that help to create a specific aesthetic or serve a particular need.  Materials, like concrete, stainless steel, butcher block, soapstone or marble are a few.  For instance, in a recent kitchen remodel, we installed multiple countertops for a client who loves to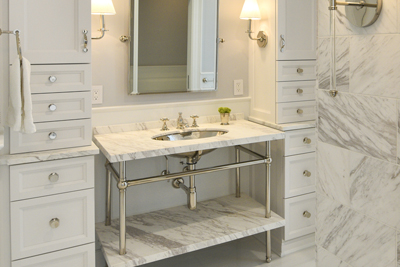 bake.  She needed different surfaces, including butcher block, marble and granite, for different baking needs. The end result was an efficient bakers' kitchen for her and a beautifully designed space for all.
Durability and Maintenance
Imagine, you have beautiful marble countertops throughout your kitchen and, as you're cooking a classic Italian meal, you bump into your glass of red wine.  Down it goes across your countertop, you're quick to clean it up but miss a spot.  Unfortunately, that spot will remain there because marble is so porous it soaks it in like a sponge.  Alternatively, a quartz countertop that mimics the color, movement and even feel of marble, you can easily clean up your spill without the worry of a stain, even days later.  Granite will not stain as quickly as marble, but you do run the risk of a stain if you don't act fast.  Both granite and quartz are heat and scratch resistant, unlike stainless steel, concrete and some other materials.  Before committing to your selection, think about daily use and required maintenance.
In the end, the great countertop debate is no debate; it's entirely up to you. Some of our clients choose concrete for their industrial aesthetic renovations, others choose marble as a statement piece, and many choose quartz for its wide variety of options and resilience against everyday wear and tear.  When selecting countertop materials, the right solution is what will look and work best for your daily life!