Seven Ways to Add Personality to the Design of Your Kitchen Remodel in McLean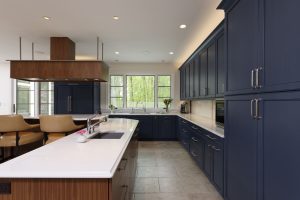 One of the best parts of a kitchen remodel in McLean is customizing the space to meet your needs. While many people would be happy with a kitchen that is functional, practical and reliable, many  homeowners long for the beautiful details and customized features that truly make the space their own.
Here are seven ideas to customize your kitchen remodel in McLean:
1) Creative Cabinets:
As there are no longer set rules, cabinetry is a great area for easily adding personality to a kitchen. Cabinets can range in color from light to dark and even feature contrasting colors or complementary designs within the same kitchen. Choose a light color for upper cabinets and a darker color for the bottom cabinets, or mix and match using glass doors, fully covered cabinet doors and even open shelving.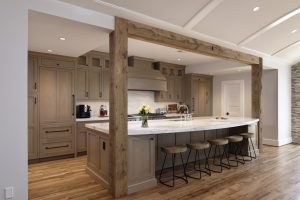 2) Design the Perfect Island:
Where does everyone end up?  The kitchen!  Create an area for guests and family to gather while you cook and entertain.  Depending on your needs, this multi-use space can be planned for additional food prep, much-needed storage, food display and a homework station.  One of the more popular design options includes choosing a contrasting color for counters or cabinets on an island.
3) Don't Forget the Ceiling:
Taking the design in your kitchen from the floor to the ceiling can make the space feel larger and more luxurious. A few options to consider include adding crown molding, exposed beams, or even wall paper or a faux finish to your ceiling for a unique look.
4) Customized Range Hood:
The hood over your range can be customized for any look. Do you want it to blend with the cabinets, be sleek and minimalized or a focal point? Stainless, bronze, wood and mixed materials are all common options.
5) Add a Beautiful Backsplash:
A backsplash is a feature that many people overlook in their new kitchen, and it's a space that easily lends itself to full customization. You can choose a backsplash material like stone, metal, pebbles, glass, colorful tiles, custom tiles or intricate mosaics. Think about creating a focal point over your range with a beautiful design within your backsplash.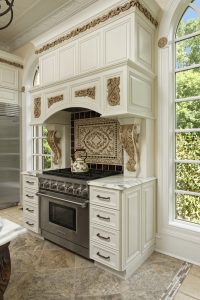 6) Add Creative Lighting:
The best kitchen designs utilize ambient lighting, task lighting and other specialty lighting. Decorative but functional pendant lights can create an accent over an island or a table, while recess lights can be placed underneath the cabinets to up light your countertops. These lights can be placed on dimmer switches too, so that they can be as bright as you need them for the task at hand. If your kitchen lacks natural light, there are many ways to fix this.  A skylight or nearby bay window can bring natural light in to areas that could use it.
7) Reconsider Appliances:
There are so many options in appliances today, making it a perfect area for customizing your perfect kitchen design. Do you want a separate under-counter refrigerator for tomorrow's ingredients or beverages, a second dishwasher in your island for entertaining, a steam oven or warming drawer? Make your wish list and let an appliance expert help.
Kitchen Remodel in McLean
The design options for your kitchen are almost endless. Many of these features will make your kitchen remodel in McLean look nicer, but others will make your life much easier. BOWA's kitchen design experts guide homeowners through every step of the remodeling process – from the first thoughts of the project, throughout architecture and construction, and continuing through a lifetime of ownership. Call us at 703-734-9050 if you're considering remodeling your kitchen in McLean. We'll schedule a design consultation and bounce ideas to give you a good starting point with us.