Luxury Remodeling on the Rise for Condo Experts like BOWA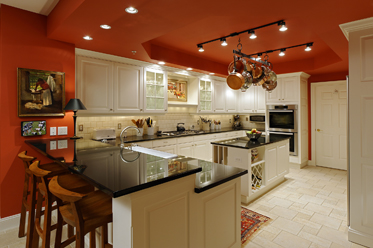 Dubbed by some as "the largest social trend of the early 21st century," the shift toward urban living has made national headlines in recent months. In increasing numbers, empty nesters are shedding their large homes and yards in the suburbs in favor of condominiums nestled in among Gen Xers and all the conveniences, arts and culture city life has to offer.
BOWA's own work substantiates this trend. Not long ago, condominium remodeling was a very small piece of BOWA's business, but today it is a significant and growing portion. With projects ranging from pull-and-replace kitchens to whole-unit renovations, in buildings from Potomac to Alexandria and DC to McLean, BOWA has more luxury condo remodeling experience than anyone in the area. And with that, come the experience, relationships and proven methodologies required for success on our clients' behalf.
Finding and Evaluating the Right Unit
If you're considering making the move to condo living, or if you have done so recently, you might appreciate this play on the old real estate adage, "Location, location, relationships." Why the edit? Having worked in many of the area's finest buildings, we know that the partnerships we've formed with the building managers and engineers, condominium boards and realtors, have played a key role in the success of our projects. These relationships have helped our clients to identify units as soon as they come on the market, which is especially critical when you're looking for that third bedroom or other feature that might restrict inventory. Once the unit is identified, familiarity with the building and existing relationships with the engineers and condo board help us to quickly evaluate options for customizing the space to suit your needs.
Customizing your Perfect Condo Home
Once we dive into the design phase, you'll soon learn that one of the greatest benefits of condo remodeling is that the dollars previously spent on sticks and bricks and landscaping can instead be spent on finishes, appliances, flooring and the other interior comforts to which you have grown accustomed. These dollars go a long way in customizing ample storage, ensuring privacy for guests, replicating a beloved gourmet kitchen or making the space feel more open – all common concerns when transitioning from a single family home. Our design team has the solutions and our production team has the skills and expertise to ensure you will fall in love with your new condo home.
Love thy Neighbor
A successful condominium remodel requires the marrying of the delicate handling of the most difficult residential project with the complex systems of a commercial building. It involves a unique blend of specialized processes and the watchful supervision for which we are known. Our team of award-winning condominium experts has developed methodologies to address noise and debris regulations, access and tenant/worker safety, which are common issues with low- and high-rise residential projects. These processes and communications programs are critical to establishing and maintaining a good rapport with your new neighbors, building management and engineers. As a testament to our track record in the buildings we've worked, most of our condominium projects are the direct result of referrals from building managers and other tenants.
The current trend toward condo living is very exciting. Whereas others shy away from condominium remodeling projects, BOWA embraces the challenge and delivers extraordinary results. So, if you want the convenience and accessibility of urban living, but are not ready to forego the beautiful amenities and finishes provided by a custom renovation, BOWA is the answer.