Remodeling Design Trends – The Latest Architectural Design Ideas
We are often asked, "so what trends are you seeing now in the world of residential interior design?" The key word this year is TEXTURE. Unique and interesting finishes add depth to any project.
Metal – Brushed nickel is a very popular finish for kitchen and bathroom fixtures. Whether the room's design is con-temporary, traditional, or somewhere in between, the luster of the satin finish adds sophistication as well as another tex-tural layer.
Wood – Recycled and reclaimed wood used in flooring has a unique aesthetic and feel. It can work in a variety of rooms whether using it for a contemporary style or for a vintage look. On bar tops and islands, wood adds an element of warmth and tradition.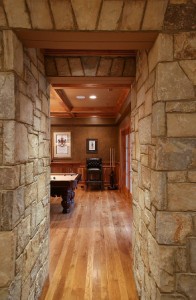 Glass – How do you design a great looking railing that al-lows for maximum views? Exterior glass rails create an open feel by incorporating light, surrounding design elements and beautiful scenery. In the bathroom, shower doors and walls made from Starfire, a low iron glass, offer a crystal clear alternative to standard glass doors which may have a green tinge.
Color – White is hot in the kitchen. Look for white or white-washed cabinets. Countertops in neutral colors with veining are the trend. The contemporary color palate is understated and leaning toward warm neutrals and gray.
Stone, Marble, Granite – Leathered, sueded and honed sur-faces add dimension and personality to solid surfaces. A honed marble finish projects a "well used" look. Antico fin-ished granite, which is worked with a wire brush during the polishing process, imparts character.
Recent design trends reflect more purposeful aesthetics with an emphasis on en-during value. Hand-crafted materials, hand-blown glass fixtures and recycled and reclaimed resources are allowing home-owners to create living
spaces that express who they are and reflect the natural world.
Thinking about a renovation or addition to your home? Opportunities to create wonderful design through the use of texture are limitless.