10 Outdoor Living Ideas to Consider for Your Renovation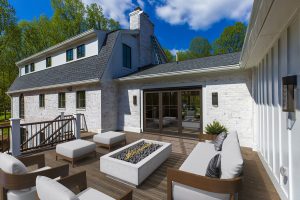 It's pretty wonderful when the stars align and you find yourself with the time, perfect weather and space you love to enjoy outdoor time with family and friends. If you're contemplating an outdoor renovation, you should think about all the ways you could use the space before tackling your design. Consider these 10 outdoor living ideas to create a retreat that everyone will love.
1) Family Room: Create an inviting family space complete with comfy furnishings, a firepit, heaters and large glass doors to access your home's interior. Make it an open-air space or a screened-in room with ceiling fans.
2) Outdoor Kitchen: Go all out and create an outdoor kitchen that you can enjoy throughout the year, perhaps with a grill, smoker, pizza oven or all the above. Whatever options you choose, don't forget plenty of space for prep work and setting your trays and dishes.
3) Outdoor Games: Everyone loves a good game of pickleball, horseshoes, cornhole, or disc golf! Plan for your favorites and enjoy a little healthy competition with family and friends.
4) Wet Bar: Don't forget an area for refreshments, so you aren't constantly running back inside. Plan for a mini fridge to stock with your favorite beverages and snacks and space to store glasses, openers and other essentials.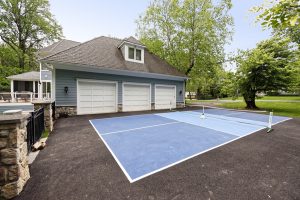 5) Kids' Corner: Create a safe area specifically for your children, including age-appropriate toys, activities, and items that they enjoy. Build a playhouse, treehouse, or tepee for your children. A kids-only feature doesn't have to be large to bring enjoyment, just big enough to help their imaginations grow.
6) Movie Area: What's better than a movie under the stars? Plan a surface for the screen and lots of sitting area for folks to stretch out with blankets, cushions, or seating. Set up near your wet bar, firepit, electricity, and restroom to make the gathering a breeze.
7) Garden Area: If you love to cook or have a green thumb, a kitchen garden, large or small, would be a wonderful addition to your outdoor living plans. Or if you would rather save room, hanging pots, planters, or window planters are a great alternative.
8) Pets' Corner: Don't forget Fido and Fluffy! Create an area where your pets can safely play outside without constant supervision. A fenced-in area, shelter, and access to fresh water are ideal.
9) Create a Hang Out: Hanging chairs are a fun addition to your outdoor living area. Hang a few chairs and hammocks for island-vibe relaxation. No trees? That's okay! Build a structure to hang your new seating options.
10) Sprinkler System: A sprinkler system is an excellent way to keep the lawn looking fresh without adding to your honey-do list.
If you'd like some help in planning your perfect outdoor retreat, we're happy to assist. The sky's the limit and we'd welcome the opportunity to review these 10 outdoor living ideas and more to guide you to the right solution for you.